Can't overcome office stress? 5 useful tips to help you manage it
Useful tips on stressing less at work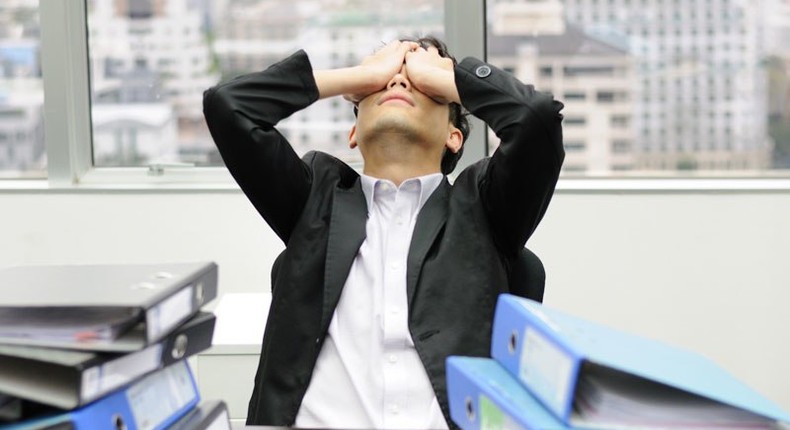 Having stress at the work place is something one would wish to avoid but at times it is rather inevitable.
And it may come in various ways such as rushing to meet deadlines, pressure at work, working over-time or being in conflicts with your co-workers.
If not handled properly, stress can lead to various physical and psychological effects such as loss of appetite, mental disorders, migraines or emotional instability.
So does one overcome it? Here are 5 tips to help manage stress in the work place:
1.Give your mind sometime off
There are many ways in which you can relax your mind and the best method is meditation. It might sound a bit strange if you've never done it before but meditation allows you to focus your attention on what's happening in the present.
Meditation involves slow, regular breathing and sitting quietly for about 15 to 20 minutes and allows you to gather all your thoughts and begin coping.
You might need to get out of that office environment for a while and take a simple walk outside. Stretch your legs a bit and go for a long walk with an office friend as you share stories. Your brain will be refreshed and will perhaps enable you solve the problem in a different way.
3.Open up to your work mates
There is no need of sitting at your workplace soaking all the stress by yourself. Let other people in the office know how you are feeling as they could help you resolve your concerns. If you have a conflict with a co-worker, try and find amicable ways in dealing with it.
Whether it's by stretching, running, doing yoga or cycling, doing some exercise is one great way to relieve stress. It is said that exercise releases endorphins which make us feel happier or in a better mood.
5.Strike a work-life balance
Stress is often induced by having a high workload such that we tend not to set aside some time for our personal lives. Finding that balance is crucial in alleviating stress. And by this I mean doing fun activities like spending time with your loved ones or even deciding not answering work calls over the weekend. Time off should be time off.
Recommended articles
Top 10 richest mineral-producing countries in Africa
Africa's richest man Aliko Dangote poised to overtake another Russian billionaire Vladimir Lisin on Bloomberg billionaires list
Diwali 2022: Is Monday a public holiday in Kenya?
How to join NIS with a certificate, diploma or degree
Ruto responds to Kenyans who don't want houses & 3% housing fund levy
Akothee finally takes legal action against Andrew Kibe
Mzee Kibor's will made public, revealing how vast wealth and millions will be distributed
Fantana's Biography: Age, education, career, net worth & relationship with Diamond
Ini Edo posts new photos amid reports of welcoming a baby through surrogacy