Why Kenyan MPs' property worth Billions could now be auctioned
Details are now emerging why the MPs resorted to the desperate, dramatic and cry baby antics.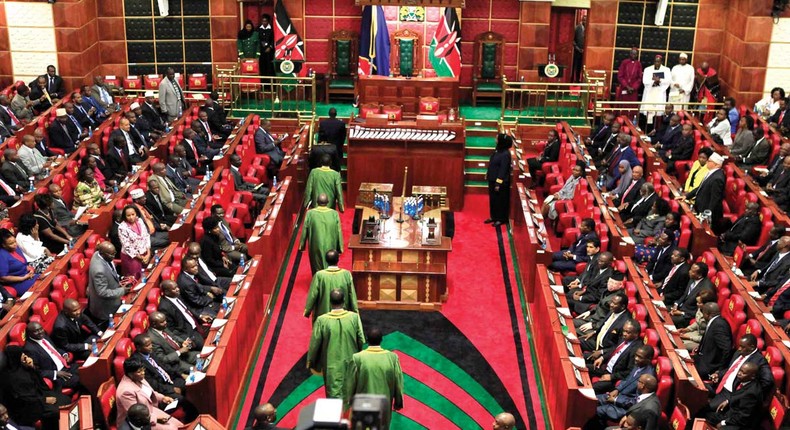 Early this year, members of parliament engaged in a power tussle with the ministry of treasury over cash.
The MPs argued they were entitled to the salary since their five year term ought to end on March 2018 as they were sworn in March 2013.
Nearly 100 MPs are facing possible repossession of their luxury cars to recover outstanding loans at the end of their tenure on August 7, the Parliamentary Service Commission (PSC) has warned.
"During the reported period (2015/16), the fund was able to fully process loans to 89 honourable members (approximately 22 per cent) for the 11th Parliament," Justin Bundi, the former Clerk of the National Assembly, says in the report tabled in Parliament last week.
The report indicates 89 MPs were advanced loans in 2013 to June 2016, meaning that the MPs are now desperate and under immense pressure to repay the loan in full within a year and a half.
According to PSC's Car Loan Scheme Fund, The MPs are entitled to a Sh20 million mortgage and a Sh7 million car loan that they are required to repay before the end of their parliamentary terms (August 7, 2017).
The fund adds that it has outstanding loans amounting to Sh213.1 million for both MPs and parliamentary staff.
Property seizures in the event of default on the loans not to mention the public shame that comes with it is now but a painful reality the MPs are staring at.
Add that to the many side chics 'mpango wa Kando' plus the second or even third wives  the randy MPs possess not to mention child upkeep maintenance and you feel the headache the generous MP's are going through.
Nearly half of the MPs who were defeated in the just concluded party primaries have declared they will vie as independent candidates further indicating that the outstanding loans may have pushed them to the wall and they are now desperately fighting for retain their Luxurious lives and the little dignity left.
The PSC has wisely advised the lawmakers not to rely on their monthly payslip deductions to repay the amounts due but to instead "make additional payments from other sources."
"This will ensure early repayment and release of original logbooks to facilitate their discharge and transfer to the owners," the fund says.
JOIN OUR PULSE COMMUNITY!
Recommended articles
Amazing transformation of 21-year-old man bullied for being born different (video)
Abel Mutua's movie makes over Sh4M in 5 days
How Janet Mbugua's husband Eddie landed Sh240 million deal with Chinese investors
5 things you should never do to please a woman
Sh79,000 per month jobs for Kenyans without degrees
British MP claims she didn't know her flat was owned by the Kenyatta family
Janet Mbugua's husband thrown at the centre of nasty fight at Ole Sereni Hotel [Video]
Tiwa Savage breaks silence after her raunchy tape leaked online [Screenshot]
Diamond Platnumz splashes Sh5.2 Million on new Gold & Diamonds Chain [Video]