5 facts about France youngest president Emmanuel Macron
He won 66.1% of the vote against 33.9% for Marine Le Pen.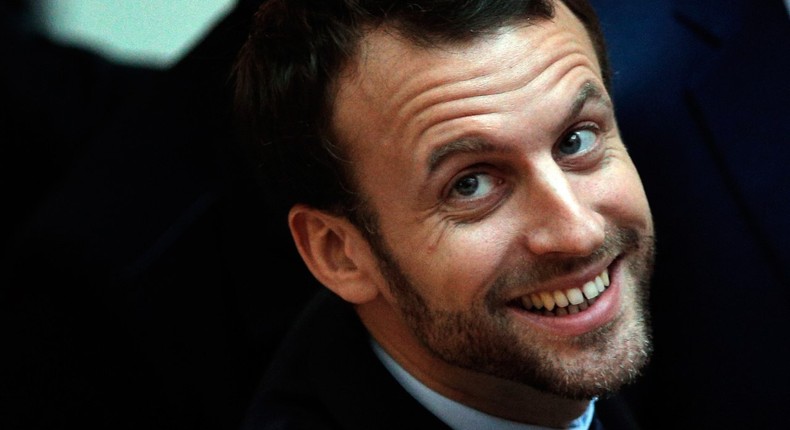 On Sunday pro-European centrist Emmanuel Macron was elected as the next French president.
He won 66.1% of the vote against 33.9% for Marine Le Pen while the abstention rate was 25.44%.
Here are five 'unknown' facts about Macron.
Macron was born in Amiens in northern France on December 1977. His father was a doctor and a neurology professor.
Attended same School with outgoing president Hollande
Macron attained a degree in philosophy and public affairs in Paris before attending the elite National School of Administration
The school counts the outgoing president Francois Hollande among its graduates.
He is the youngest French president.
He is married to his former primary school teacher.
At the tender age of 15-years, Macron took part in a school play directed by Brigitte Trogneux, a drama teacher 24 years his senior.
After this encounter they started an on and off romance which Macron's parent vehemently opposed.
The pair eventually married in 2007 when he was 29 and she was 54 years old.
Before she met Macron, Trogneux had a stable career teaching French literature, Latin and drama and was married to a banker, Andre Louis Auziere, with whom she had three children.
He has a finance background and an illustrious political career
He was a member of the Socialist party (PS) from 2006 to 2009.From 2012 to 2014, Macron served as deputy secretary-general of the Elyee, a senior role in the President Hollande's staff. He was then appointed as the minister of Economy and Finance in the second Valls Cabinet on 26 August 2014.
In 2008 he quit politics after buying himself out of his government contract by paying €50,000 and left to work as an investment banker at a highly-paid position at Rothschild & Cie Bangue.
On 6th April 2016, he founded an independent political party, En Marchel, (On the Move) in Amiens,a liberal, progressive political movement.
Recommended articles
Pulse Influencer Awards 2023!
Google boss breaks silence on termination of Andrew Kibe's YouTube channel
Machoka at 70: Emotions run high during Citizen TV presenter's birthday [Video]
Africa's richest man Aliko Dangote poised to overtake another Russian billionaire Vladimir Lisin on Bloomberg billionaires list
Diwali 2022: Is Monday a public holiday in Kenya?
Details of Ngina Kenyatta's luxurious restaurant
Most Influential Actor/Actress