5 unique things Kenya has in common with Mexico
Apart from the Mexican maize, Ricardo Arap Bethke Galdames, a Mexican actor was also born in Nairobi.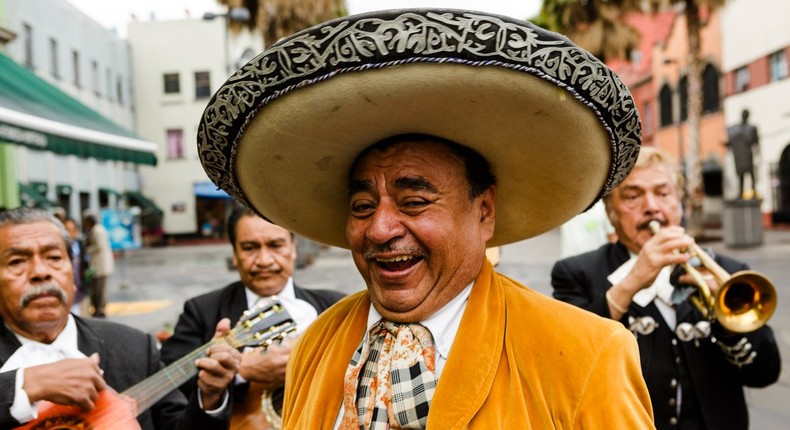 Kenya reportedly imported 29,900 metric tonnes of maize from Mexico last week to ease the high cost of basic commodities.
The process of importing the maize however got Kenyans talking with many reading foul play after the maize arrived in just three days.
The government later come out  and clarified that the maize is indeed from Mexico but was only picked from South Africa.
"The maize was imported from Mexico into South Africa under storage and then we're picking it up from there. That is why we're able to order and get it in five days," Transport Principal Secretary Professor Paul Mwangi told members of the press on Monday at the Port of Mombasa.
What many Kenyans may not however know is that it is not only maize that Kenya and Mexico can trade in, there are quite a few things we have in common.
A number of Kenyan athletics reside in Mexico and have won a number of international races for Mexico and help put the latin America nation on the world map.
The largest Kenyan community is found in Toluca
What makes Mexico so appealing to athletes is its location for easy access to marathons in North and South America.
Some of Kenya's notable athletics include Hillary Kipchirchir Kimayo and Nixon Kiplagat Cherutich.
Mexico is a second home to many Kenyans, whenever things get thick here at home; Mexico is always ready with open arms to welcome them.
This was the case with Professor Anyang Nyong'o who migrated to Mexico in 1983 after he sought political asylum there when he fell out with the government of Moi and that is how Lupita ended up being Mexican-Kenyan.
A smaller group of Kenyans in Mexico are professionals or students and reside in Mexico City.
Far away at the United States whenever Kenyans green cards applications are rejection or they simply fail to achieve their American dreams they normally cross the border to Mexico where start it all over again and maybe even succeed in sweeping a Mexican princess in distress.
A kid in Kenya will likely know more about Mexico before they even learn how to speak, Millions of Kenyan household daily tune in to Mexican soap Operas popularly known as Telenovas, so popular are the shows that some Kenyans have been forced to plan their daily lives along the show time schedule.
What more Mexican actor Ricardo Arap Bethke Galdames was born in Nairobi on March 12, 1980.
Kenyan media houses have of course jumped on the bandwagon and now air the soaps all day and night long; more than 50 per cent of their revenue comes from adverts during commercial breaks of these Mexican soaps.
Any Kenyan who knows their Movies will also tell you, they all watched 'Desparado' more than once.
International cooperation's
Kenya and Mexico established diplomatic relations on 15 March 1977, In March 1981, Mexico opened an embassy in Nairobi and since then the two nations have been inseparable.
In 2011 and again in 2014; a Kenyan parliamentary delegation visited Mexico to discuss issues on national security, combating organized crime, refugees and financial cooperation.
Mexico can especially teach Kenya a thing or two about how to deal with the recent surge of youth gangs who if left unchecked risk , it is not strange that some of these Kenyan gang leaders may be borrowing tactics from Mexican gang cartels.
In 2015, two-way trade between both nations amounted to $9.3 million USD. Mexico's main exports to Kenya include: probing and drilling machinery, tractors and alcohol (beer).
Kenyan exports to Mexico on the other hand include: vegetable oil, cotton fibers, tea and leather.
2496 Mexican tourists visited Kenya on the month of march alone according to Kenya tourists data report.
JOIN OUR PULSE COMMUNITY!
Recommended articles
Amazing transformation of 21-year-old man bullied for being born different (video)
Abel Mutua's movie makes over Sh4M in 5 days
Sh79,000 per month jobs for Kenyans without degrees
How Janet Mbugua's husband Eddie landed Sh240 million deal with Chinese investors
5 things you should never do to please a woman
Vera imports Baby Diapers from US, Help rebuild Boniface Mwangi's house & other stories on #PulseUhondoMtaani
British MP claims she didn't know her flat was owned by the Kenyatta family
Janet Mbugua's husband thrown at the centre of nasty fight at Ole Sereni Hotel [Video]
Tiwa Savage breaks silence after her raunchy tape leaked online [Screenshot]