Meet the press: 10 questions to Nana Addo Ghanaians want answers to
10 questions Nana Addo must answer as he meets the press on Friday, December 13, 2019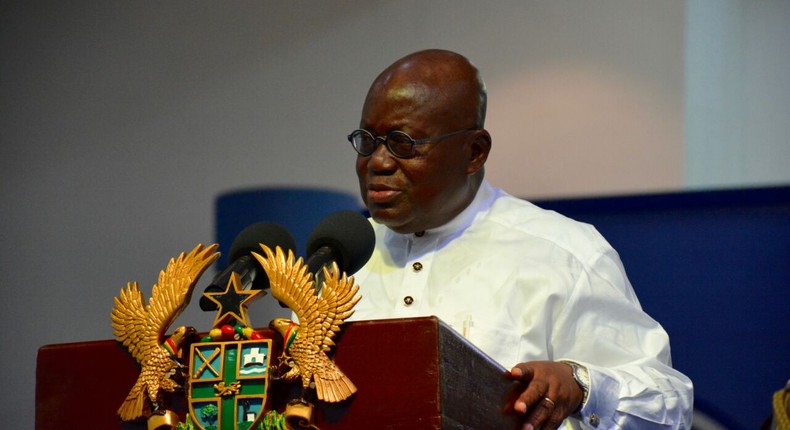 Ghana's President Nana Addo Dankwa Akufo-Addo is expected to meet the press on Friday, December 13, 2019.
In a statement issued by the Ministry of Information, it said that the president will account for his stewardship to Ghanaians after almost three years in office.
The meeting will be the third since assuming power as the 5th President of the fourth Republic.
"The President is expected to speak about the performance of his government in areas of the economy, governance, health, education, security among others, and what he is doing to turn around the fortunes of the country," the ministry said.
The statement added that some of the invited journalists will be given the opportunity to ask the President questions on all sectors and lives of Ghanaians.
I have tried to ask for an invitation to the presser but as of now, it doesn't seem possible. Since I don't have an invite, I am hoping that President Akufo-Addo answers these questions in his address.
At the final rally before election 2016, you said: "There's money in the country but we are starving." Do we still have in the country?
2.Assess your tenure as president.
3.How many jobs have you created since you took office?
4.Who is your best performing Minister?
5.The public believes that the first and second ladies have been more efficient than most of your appointees. What is your response to that?
6.Why hasn't your government paid the arrears owed teachers even after 3 years in office?
7.Accra is still filthy after all your promises to make it the cleanest city when you become President. What explanation do you have for this? What are you doing to make Accra clean?
8.It seems you do not listen to Ghanaians even though you asked us to be citizens and not spectators. Ghanaians have been against the mining of the Atiwa forest but you are still going ahead to give the concession to the Chinese. What will t take to make you go back on your decision?
9.Will you agree that you asked for the referendum to be withdrawn because you knew Ghanaians will vote "No"?
10.After your current tenure, do you think Ghanaians will retain you in 2020?
Recommended articles
African countries with the highest divorce rate
Machoka at 70: Emotions run high during Citizen TV presenter's birthday [Video]
Diwali 2022: Is Monday a public holiday in Kenya?
Akothee finally reveals reasons for separating from Omosh 1 month after wedding
Man, once a 'billionaire', recounts how he lost wealth, now sells his book on streets [Video]
Details of Ngina Kenyatta's luxurious restaurant
Zero Chills! Jackie Matubia's advice for Milly Chebby amid the unfollow drama
Nigerian royal dignitaries, including four kings and a queen, expected to attend Museveni's 50th wedding anniversary celebrations
Mzee Kibor's will made public, revealing how vast wealth and millions will be distributed