Meet the African doctor who wants to save the world by getting elected as Director-General
He has won admiration for his strategic thinking and management abilities.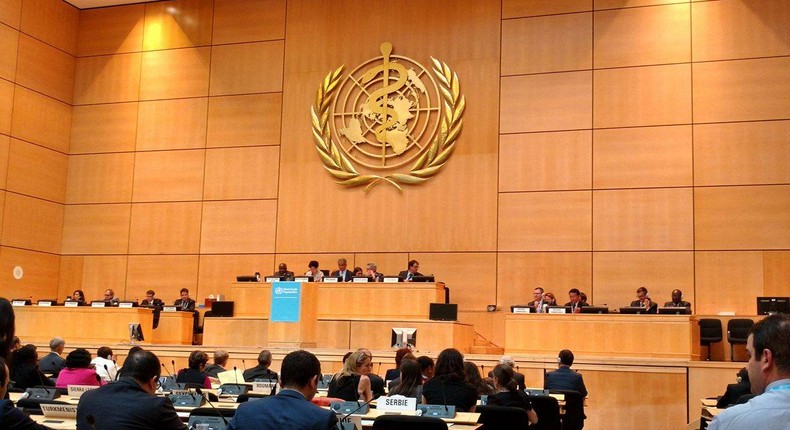 The Seventieth World Health Assembly to elect a new Director-General is underway at UN headquarters in Geneva, Switzerland.
The election will take place by secret ballot and its result will be communicated once the process has been completed.The new Director-General, is then expected to assume office on 1 July 2017.
In January 2017, WHO's Executive Board drew up a short list of 5 candidates. Executive Board members then interviewed these candidates and selected 3 nominees to go forward to the World Health Assembly in May 2017.
The three nominees for the position are Dr Tedros Adhanom Ghebreyesus, Dr David Nabarro and Dr Sania Nishtar.
The three candidates have weathered smear campaigns, pressure and even financial inducement to pull out.
Whoever will be elected the Director-General will play a crucial role in ensuring lives are saved in the face of deadly disease epidemics like Ebola.
The Ebola outbreak in West Africa which was first reported in March 2014 spread rapidly and became the deadliest occurrence of the disease since its discovery in 1976.
A total of 11310 people died, five times more than all other known Ebola outbreaks combined yet the UN body completely missed the Ebola epidemic till it raged out of control.
Here is a short profile for each of the Director-General nominees.
Dr. Tedros Adhanom Ghebreyesus
The Government of Ethiopia has submitted the nomination of Dr Tedros Adhanom Ghebreyesus.
Dr. Tedros (52) is a former health minister of Ethiopia, with experience in numerous global health initiatives.
He has won admiration for his strategic thinking, his management abilities and his skill at bringing together diverse constituencies towards achieving common health targets.
His accomplishments in improving health and saving lives in Ethiopia have been cited as models for gains that can be made, even in difficult, low-resource settings.
Tedros has the unified support of the African Union (54 Votes). Each of WHO's 193 national members has one vote.
The Government of Pakistan has submitted the nomination of Dr Sania Nishtar.
She is a cardiologist from Pakistan who has held several government portfolios, including minister of health in a caretaker government in 2013.
She is 54yrs and has a lot of national and international experience in the civil society sector.
The Government of the United Kingdom of Great Britain and Northern Ireland has submitted the nomination of Dr David Nabarro as the candidate for WHO Director-General 2017.
Dr. David is a long-time United Nations official who served as UN Envoy for Ebola during the 2014 outbreak in West Africa.
He is currently special adviser to the UN secretary general on sustainable development and climate change.
Recommended articles
African countries with the highest divorce rate
Machoka at 70: Emotions run high during Citizen TV presenter's birthday [Video]
Diwali 2022: Is Monday a public holiday in Kenya?
Akothee finally reveals reasons for separating from Omosh 1 month after wedding
Man, once a 'billionaire', recounts how he lost wealth, now sells his book on streets [Video]
Details of Ngina Kenyatta's luxurious restaurant
Zero Chills! Jackie Matubia's advice for Milly Chebby amid the unfollow drama
Nigerian royal dignitaries, including four kings and a queen, expected to attend Museveni's 50th wedding anniversary celebrations
Mzee Kibor's will made public, revealing how vast wealth and millions will be distributed