Nigerian artist's hyper realistic portraits are worth more than a thousand words
Walking through his studio, it's hard not to be overwhelmed by the extraordinary set piece after set piece that hang proudly on the painted coarse walls.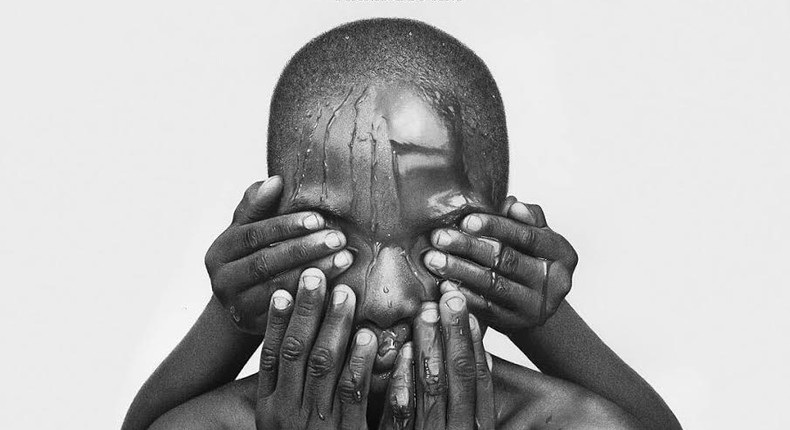 To the lazy untrained eye, Stanley Arinze captures images with the best high-resolution camera money can buy and frames them.
But he does quite a bit more than that; Arinze draws them with his charcoal and graphite pencils on his large sheets of cartridge paper.
Moving from one portrait to another, and then circling back again to the beginning, the most fitting word that first springs to mind is 'unbelievable'.
For Arinze, it has been a long road of constant trial and error to get here.
The 23-year-old graduate of Agricultural Engineering grew up drawing stick figures with his friends, until at some point he had the epiphany that humans don't actually have sticks for body parts and decided to evolve.
As he grew, Arinze continued to push himself to make more realistic drawings that have a more human feel than the stick figures he began with and he steadily developed himself and improved his art.
It wasn't until 2012 he became fully aware of hyper realism as an art community after meeting artists doing incredible things with it on social media.
Arinze started drawing more from then on, cultivating a following on his social media pages, especially on Instagram and Twitter.
As he started pushing his drawings more online, reception was mixed as he got positive reviews just as much as negative ones.
According to him, comments about his work, especially the negative ones, served the important purpose of motivating him to draw better.
What is most impressive about Arinze is that he doesn't see himself as quite the finished article yet. He'll be the first to admit that his art still has a lot of room to improve, as hard as it is for you, the awestruck observer, to believe.
He recognises the importance of growth while making art as stirring as his hyper realistic drawings.
For someone of Arinze's astonishing talent, it'll come as a surprise to discover that he leads a double life.
For most of the day, he assists his father run the family business of making envelopes in a managerial position on the factory floor.
He doesn't retire to drawing until late in the evening which he does until the wee hours of the next morning. He's done this for the past couple of years, finding balance between both worlds without losing sight of where he wants to take his art.
The road to internet stardom for his art was an interesting one that came at an unexpected time.
As not so long ago as 2016, he only had a few hundred followers on his Instagram account where he posts regular updates of his drawings.
He was shocked to get a notification that his portrait of Nigerian president, Muhammadu Buhari had been shared by music mogul Michael 'Don Jazzy' Collins to his millions of Instagram followers; an act that garnered him a lot more attention that has resulted in the thousands of followers he has today.
The Buhari portrait is the only one in Arinze's studio that's displayed in a glass case; an indication of how dear it is to him.
According to him, he started the portrait to serve as a memento of his support for the former military dictator while he was campaigning for the country's highest seat of power.
He has another drawing of Juliet Ibrahim in his studio that he considers untouchable, a keepsake of his appreciation of the Ghanaian actress.
The only other portraits of this ilk in his studio is one of his younger brother Charles, and another of Henry, Charles' childhood friend. According to him, he made them subjects of his art so as to cement their friendship in time.
For Arinze, hyper realistic art is not a simple hobby or a casual spur to scratch pencil on paper. He perceives it as a representation of his feelings or feelings that he is trying to evoke in the viewer.
It represents an escape for him to express thoughts that can be inhibited in his actual self or others. With his drawings, he builds a world all on its own that he can escape to and pull other people into.
Arinze draws in bold white and black, but the results couldn't be any more colourful than it appears in reproducing reality the way he perceives it.
For Arinze's portraits, the devil is in the detail. The detail in his portraits is extraordinary to the point of mocking reality itself.
Every brush of the pencil on the paper, every shade, every stroke, every strand of hair, every reflection of light is a meaningful contribution to the finished article.
The details in these drawings leave behind traces of feelings and emotions Arinze wants to reproduce; it's dreamy.
Arinze's most pressing concern is people's perception that hyperrealism is not an actual art because of the belief that a lazy click of a camera button gives you exactly the same result.
While this argument might have some lazy substance to it, it also should be argued that it makes the whole process of making hyper realistic art all the more exceptional as it is more expressive in a way that is infused with more strong messages of emotion and a deeper sense of complete reality.
In a couple of years, Arinze envisions even more exposure for his art, hoping to export it to the international market.
As an observer charmed by the wealth of Arinze's craft, it's easy to see that happening sooner than he expects.
Recommended articles
Top 10 African countries with the highest crime rates
Machoka at 70: Emotions run high during Citizen TV presenter's birthday [Video]
Africa's richest man Aliko Dangote poised to overtake another Russian billionaire Vladimir Lisin on Bloomberg billionaires list
Diwali 2022: Is Monday a public holiday in Kenya?
Details of Ngina Kenyatta's luxurious restaurant
Nigerian royal dignitaries, including four kings and a queen, expected to attend Museveni's 50th wedding anniversary celebrations
Mzee Kibor's will made public, revealing how vast wealth and millions will be distributed
Why some people refrigerate their condoms before use
Ini Edo posts new photos amid reports of welcoming a baby through surrogacy