Stuart Gold is making money from turning Ghana's trash to tourists' treasure
Gold's company buys used water sachets collected off the streets, cleans them and turns them into works of fashion.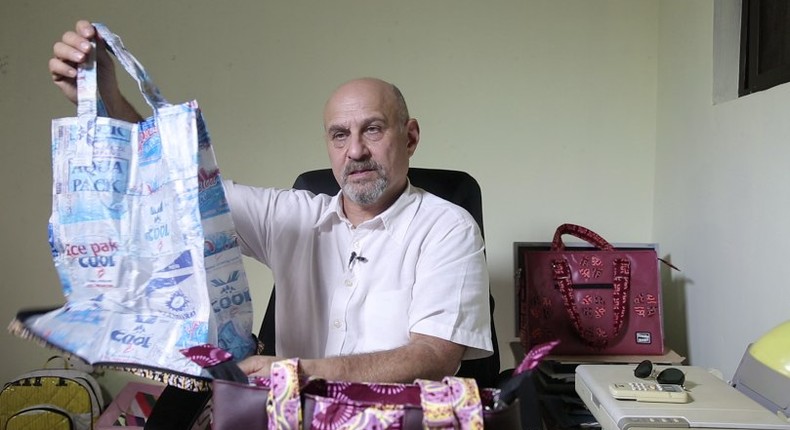 Stuart Gold turns trash to treasure, scavenging for material that will bring flair to any outfit.
As the founder and managing director of Accra's Trashy Bags, Gold is dedicated to giving Ghana's plastic waste a new life.
The varied, one-of-a-kind bags his company make show the beauty of recycling.
Originally from the UK, when Gold arrived in Ghana twelve years ago, the littered landscape struck a chord with him.
"It was very clear plastic was a big issue in the environment, especially the thin black plastic bags and also water sachets ,ice-cream, yogurt and all that.
"They have open gutters here which get clogged - they still do....There's no recycling provision on the streets, there's no provision for waste disposal easily unless you pay for it, so a lot of people just dump which is a big problem, but it has improved.
"There is more understanding and awareness now about plastic and to recycle especially."
Eleven years ago Gold set up Trashy Bags as a non-profit, social enterprise.
His company buys used water sachets collected off the streets, cleans them and turns them into works of fashion and practicality.
Inspired by the work he had seen others do in recycling Ghana's water sachets into bags, he came up with the name Trashy Bags quickly, and was soon getting orders from abroad.
The original Trashy Bag products were made from the water sachets as well as the colourful Fan Milk product packages, but the empty packages soon started to disappear from the streets - "which was a good thing, maybe we were a victim of our own success," Gold mused.
They ended up having to pay more for the Fan Milk packages so eventually stopped using them, meaning they only had the water sachets in limited colours- blue and a bit of red.
So, in 2008, Trashy Bags took inspiration from billboards – literally.
"We decided to go into the market of bags made of billboards. At that time, in 2008, there was a booming economy, there were a lot of advertising billboards made from plastic...we tried all sorts of idea. The problem with the billboard is if you have a nice design on the billboard you can use that but quite often the signs are very basic or plain colours so we do quite a lot of patchwork."
There could be a few different billboards in any Trashy Bag, combined with either new or recycled local fabrics and lined with foam.
Gold's company makes a range of styles, from laptop sleeves, to travel bags to small wallets.
Each is individual, you won't find two of the same because the recycled material they are made of differs.
They will have different patterns, and some will be a patchwork look of varied colours and textures. Some bags stick with a clear, classic colour theme, while others are bold and bright.
"They are very well finished and good quality. We went from these water sachet products which were very basic really, not lined to these really nice products," Gold said.
But they have kept the water sachet products as part of their line, one of the most popular products is a fold out shopping bag that can hold about 18 kg of shopping. The bag is made of water sachets but folds down into a small cloth purse.
Trashy Bags also makes a range of tablet sleeve from the water sachets.
"It's a cool material and a very strong material. Its got a great story behind it - if this [a bag] has 25 sachets then 25 people have drunk from this bag – every single one of them was used to drink water.
It's still a very useful utility product and very practical."
Gold estimates Trashy Bags has collected and recycled upwards of 30 million of the water sachets since it started.
Set up to improve the environment and create awareness in the population about reducing, reusing and recycling, Gold adds the company also works hard to take care of its 33 workers.
"That is a big part of our company, actually treating our employees well; we are one big family."
Sold throughout the world and here in Ghana, at a store in Osu, which is mostly frequented by expats and tourists, Gold is keen to expand his market and sell more globally, though there are challenges.
"Getting billboards is not easy, companies don't necessarily give us all their billboards we have to really beg for them, we have to go to the agencies who put them up and down and have to go to the advertisers and ask if we can have them  - some of the advertisers don't want us to for some reason, others are quite happy to."
Gold find shipping expensive and there a lot of uncertainties in sending the bags to customers overseas.
"We send a lot out through the post office but the prices are a secret which makes it difficult when you have an online site and need to quote prices for selling things, so we have to find ways of getting prices for each weight for each country. That has been a bit of a challenge, we have to get around these things."
Gold has plans to turn much more of Ghana's trash to wearable treasure.
He is eyeing more international sales, and is in the process of a partnership with an international company wishing to exercise corporate social responsibliity.
Recommended articles
Linet Toto excited as she unveils sleek ride after 1 month in office [Photos]
Aliko Dangote the richest man in Africa just got richer
Africa's richest man Aliko Dangote poised to overtake another Russian billionaire Vladimir Lisin on Bloomberg billionaires list
Diwali 2022: Is Monday a public holiday in Kenya?
Mzee Kibor's will made public, revealing how vast wealth and millions will be distributed
Ini Edo posts new photos amid reports of welcoming a baby through surrogacy
Mathias Pogba brands Paul Pogba 'a so-called Muslim steeped in witchcraft' amid fetish claims about Kylian Mbappe
Referee behind chaos at AFCON was rushed to hospital after match
Ne-Yo speaks out after wife Crystal announced end of their 8-year marriage