Washing Machines are now a cheaper option
Samsung AddWash washing machine are equipped with Eco Bubble technology.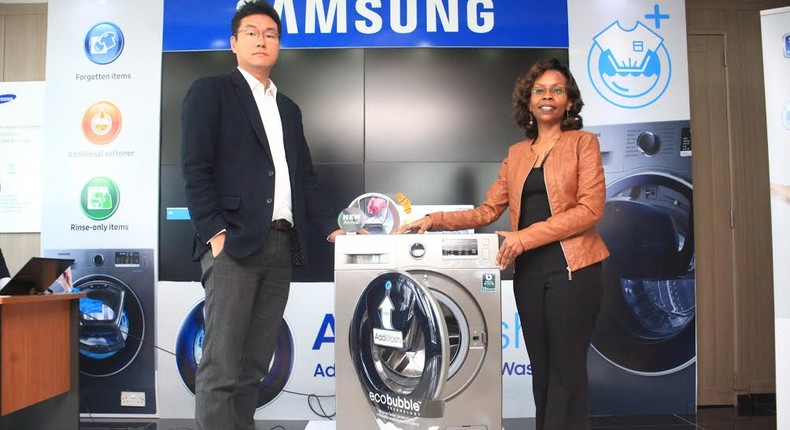 Using a washing machine no longer has to be costly.
According to Charles Kimari from Samsung Electronics East Africa, the latest models of washing machines have become energy efficient and cost effective with updated features that enable them to consume 30-40% less energy than the older ones.
Speaking during a washing machine activation at Greenspan Mall, Mr.  Kimari said that the new models such as the Samsung AddWash washing machine are equipped with Eco Bubble technology that pre-mixes air, water and detergent to create bubbles that penetrate clothes faster and more effectively, enabling the machine to wash items at cooler temperatures.
Such energy saving is good for both the environment and one's monthly electricity bills. According to Mr Kimari, the new models also go a long way in saving one's water bills and water usage, especially at a time like this when the country is being faced with a water shortage brought about by drought.
"With the current water shortage being experienced in the country, it is advisable for one to find ways of conserving water and also reduce the water bills. Our new technology uses less than half the water compared to the conventional models or hand-washing," he says.
He further stressed the importance of ensuring one's washing machine is clean to prevent mold build-up that can end up destroying the machine.
"When it comes to basic care of the washing machine it is always advisable to regularly wipe it inside and out and keep the lid open for about 15 minutes after every wash cycle to release the moisture. It is also important to use an AVS protector (Automatic Voltage Switcher), especially where power fluctuations are common. In addition, place the machine on a flat surface to avoid damaging it," he said.
Recommended articles
African countries with the highest divorce rate
Machoka at 70: Emotions run high during Citizen TV presenter's birthday [Video]
Diwali 2022: Is Monday a public holiday in Kenya?
Akothee finally reveals reasons for separating from Omosh 1 month after wedding
Man, once a 'billionaire', recounts how he lost wealth, now sells his book on streets [Video]
Details of Ngina Kenyatta's luxurious restaurant
Zero Chills! Jackie Matubia's advice for Milly Chebby amid the unfollow drama
Nigerian royal dignitaries, including four kings and a queen, expected to attend Museveni's 50th wedding anniversary celebrations
Mzee Kibor's will made public, revealing how vast wealth and millions will be distributed