Sh62 billion UAE fund to establish innovation centre in Kenya
This follows a meeting between Uhuru and Crown Prince of Abu Dhabi His Highness Sheikh Mohamed bin Zayed Al Nahyan.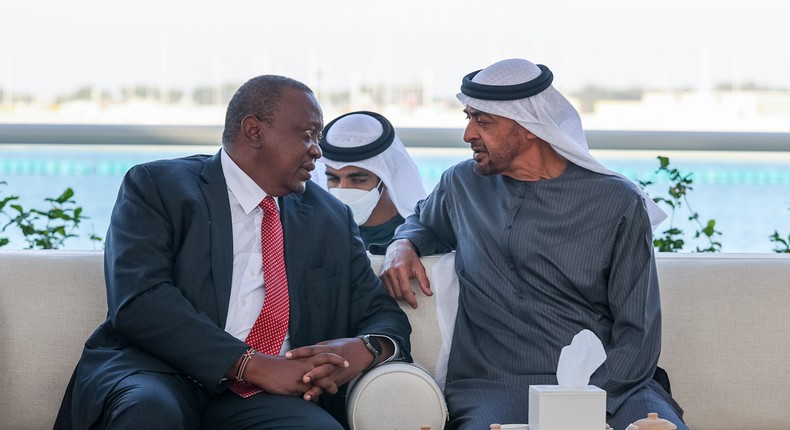 The United Arab Emirates is set to establish an innovation and entrepreneurship centre in Kenya.
In an announcement by the official Emirates News Agency, His Highness Sheikh Mohamed bin Zayed Al Nahyan, the Crown Prince of Abu Dhabi issued the directive following a meeting between him and President Uhuru Kenyatta.
The innovation and entrepreneurship centre will be established through the Khalifa Fund for Enterprise Development.
Khalifa Fund was established in June 2007, as an independent agency of the Government of Abu Dhabi, to help develop local enterprises and currently has a capital base of AED 2 billion (Sh62 billion).
The innovation and entrepreneurship centre will focus on launching programmes, workshops and initiatives by Kenyan entrepreneurs.
The centre will also provide aspiring and established Kenyan entrepreneurs with guidance on how they can use innovation in their entrepreneurial endeavours to boost the national economy.
According to the Abu Dhabi Department of Economic Development Chairman Mohammed Ali Al Shorafa Al Hammadi, the directive is part of the UAE's commitment to contribute towards empowering talented innovators and entrepreneurs around the world.
"With centres such as these, we provide entrepreneurs with resources, support and guidance to contribute to their local and global economy, bringing about positive economic implications and security.
"This collaboration between the UAE and Kenya will see the two respective nations implement Khalifa Fund's successful model to the new innovation and entrepreneurism centre with the aim of reflecting the same levels of achievement in Kenya as has been experienced in the UAE," he said.
The Khalifa Fund was recently recognised as the best in the world by the Global Monitoring Index.
During the Kenya business forum in Dubai, the president acknowledged a need for Kenya to adapt to investor-specific needs and remove the bureaucratic red tape that undermined trade.
Pulse Live Kenya
"We need to be the welcoming party. We are here to listen. We are here to facilitate. We are here to do what these investors require from us in order to come into our country to bring their investment, to help us create jobs, and to help us develop our economy," President Kenyatta urged.
The head of state also attended the European Union African Union Summit in Brussels, Belgium where he emphasized the need for Africa and Europe to forge a mutually beneficial partnership that will boost agricultural production while at the same time addressing climate change concerns.
He underscored the importance of empowering rural women, saying they are critical in enhancing agricultural production, food security and nutrition as well as rural development.
JOIN OUR PULSE COMMUNITY!
Recommended articles
Nelson Mandela's home abandoned and deteriorating
Ex-MD at Raila's firm contends for Kenya Power board seat
Israel is set to receive 1,500 Kenyans despite the war
Tactics con artists use before they scam you
Ericsson report forecasts 85% of global population to have 5G by 2029, with Africa leading the way
It's shameful Chinese owns patent rights to Ghanaian Kente designs — Copyrights expert
Israel's 2,000-pound SPICE bombs are highly accurate but could be overkill in Gaza
TikToK announces Sh229.9 million investment for small businesses in Kenya & EA
Most powerful African women in the world 2023