Survey: How Covid-19 affected price of used cars in Kenya
Plus top 10 most popular used cars in Kenya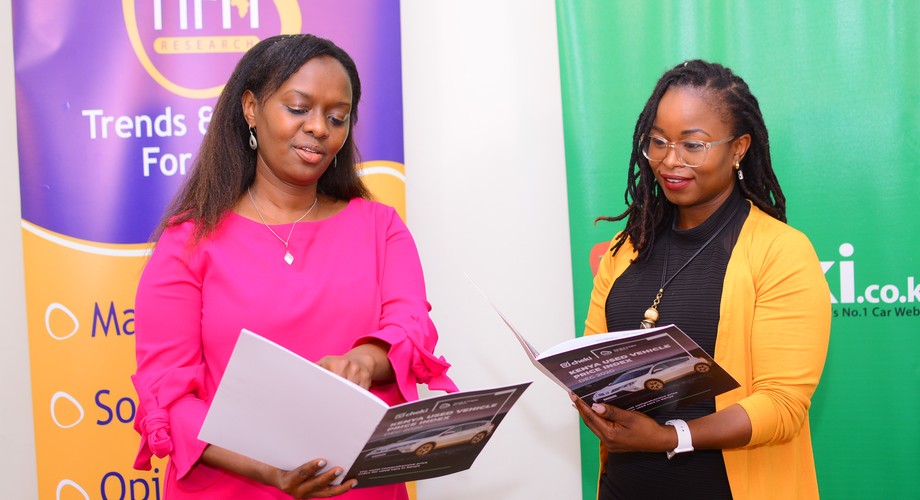 Cheki in collaboration with Trends & Insights for Africa has released a comprehensive price index for used cars in Kenya.
The survey investigated the prices of car listings from January to September 2020.
"There was a decline in the prices of all vehicles between the months of February and March 2020. Significantly large declines were recorded for pick-ups, 4-wheel drives and SUVs, saloons, hatchbacks, buses, vans and mini vehicles," the survey found.
According to Cheki and TIFA, the Covid-19 pandemic had a significant impact on prices as well as the vehicles most Kenyan buyers were demanding.
"The 4-wheel drives and SUV dominate the listed used vehicle market.
"The supply of 4-wheel drives and SUVs could be driven by high demand for luxury cars by affluent consumers and profitable firms whose spending is not affected by the economic turmoil arising from COVID-19," the report indicated.
Trends and Insights Africa (TIFA) CEO Maggie Ireri with and Cheki Kenya CEO Resian Leteipan as they view the report for Kenya Used Vehicle Price Index
Most Popular Used Cars in Kenya
The 10 top trending listings of 4-wheel drives were; Prado, Harrier, Land Cruiser, Vanguard, RAV4, X-Trail, Forester, Outback, RVR and Outlander as well as the Mercedes-Benz C200.
Toyota continues to dominate the Kenyan market, occupying 43.7% of listed used vehicle models.
Nissan came in second with a 11.5% share of the market followed by Subaru (7.3%), Mitsubishi (6.5%), Mercedes-Benz (5.4%), Volkswagen (5.3%), Mazda (4.6%), Honda (3.9%), BMW (2.5%) and Suzuki (1.7%) respectively.
Speaking during the launch of the report on Wednesday, Cheki Kenya CEO Resian Leteipan noted that: "Sale of cars seized by banks could have potentially increased supply in the market, further putting downward pressure on prices.
"Used car imports in Kenya have been on steady rise since the rise of infections in the country from early this year as many individuals opt for private means of travel in a bid to reduce the chances of being infected with the COVID 19 virus," she stated.
Pulse Live Kenya
JOIN OUR PULSE COMMUNITY!
Recommended articles
9 most popular 'zero mileage' cars in Kenya and their prices
Egypt's largest bank fully acquires bank founded by Peter Kenneth
Top 10 African countries projected to have the lowest annual inflation rates in 2023
Nigeria, Cameroon and Zimbabwe lead the pack of African students studying overseas
The Ugandan president is confident that Uganda will make billions of dollars in a short time
Ghana has seen some progress with its Domestic Debt Exchange program after a month
CBK announces Equity Bank's acquisition of Spire Bank
The Central Bank of Nigeria extends deadline to phase out old currencies
Tanzania joins the list of African countries to sign an oil deal in the new year