10 types of men Kenyan women meet online
Utakuja kwangu lini nikupikie sapa!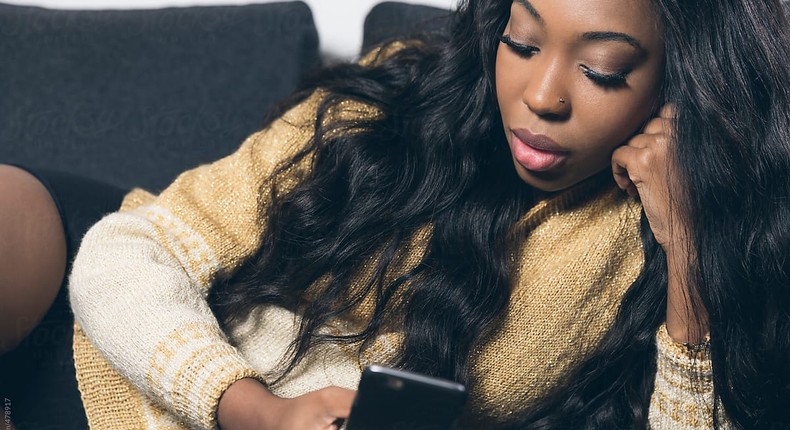 Social media and the accessibility of data/Wi-Fi has made it easy for people to connect and socialize online.
While such interactions can be helpful and give forth to new opportunities, some people will take advantage of that and annoy the hell out of you.
Women have met different characters online, from the good guy who will let you know that they are interested in you to that one indecisive guy who keeps asking for your number and sending you his nude pictures.
Here are some of the peculiar and interesting men that women have met online.
They don't know you; they have never met you; they don't even know whether you like men or ladies but they are already telling you how they will make you scream their name. They will brag about how their jack hammer will leave you begging for more and even send you pictures of their manhood.
And if that's not bad enough they will start sexting you.
Surely? Who told you that we are sexually starved?
Utakuja kwangu lini nikupikie sapa
Whoever told men that women are always hungry must have had a terrible seizure or wasn't in their right state of mind. Someone will send twenty texts on Messenger asking you when you will visit so that they can cook for you even though they only thing they can do is boil water.
And when they are not willing to cook for you, they will ask you to visit them so that you can Netflix and chill with them. We all know where that leads to, right?
I love you, I want to marry you
Pulse Live Kenya
They don't know you or even your second name, but they already love you. They don't care whether you wake up looking like a frog but they want to spend the rest of their life with you.
This type of people will keep texting and calling, saying how they ready they are to commit, settle down and even have babies. Before you even tell them that you are not ready, they will suggest you go live with them and even promise to take care of you.
One reason why we have social media is that we can post our photos and have a reminder of certain events in our life. Despite of someone liking all of your hundred and twenty pictures, they'll still ask you to send them pictures. Why? For what? Haven't you seen enough?
Pulse Live Kenya
They saw your Facebook picture, liked all your pictures and now they want more. They want you. They will messenger you, DM you or even send an email asking for your number. They make it look like they will die when they don't get your number.
Si you were breathing all right before you knew me. So why are you making such a bid deal out of it?
The one who is already dating you
He will start showing his friends pictures of you, telling them that you are dating. His friends will encourage him and tell him how he got 'mali safi'. He will even go ahead to call you his mama and the future mother of his children. Truth is, you don't know this guy and you have never met.
The pastor/motivational speaker
Pulse Live Kenya
There are men who will be sent by God to motivate you and to remind you of the second coming of Jesus. They will send you scriptures and motivational videos and encourage you to be a strong young woman who believes in God. They do not want anything from you but to see you prosper and enter the gates heaven.
You know you will never meet them because they have a face only a mother can love and one that cannot be looked at twice. They will keep insisting and asking when you will meet. They are the type of people whom you wouldn't want to be seen walking with in town.
Pulse Live Kenya
They have already liked a hundred of your pics, but that's not enough. They will go commenting on every picture on your Facebook or Instagram page saying how beautiful and gorgeous you are.
Some will even go ahead to describe you as the epitome of beauty or the most beautiful human they have ever come across.
Hata bibi yangu hataleta shida
They are usually old men who don't even know how Facebook operates. Their profile picture looks like a selfie they took accidentally and you're not really sure how they came across your Facebook page.
They will declare their love for you and assure you that having a wife isnt an issue as long as you love them back.
You don't know which hole they crawled out from, but you cant stand their talk. They will have annoying pick up lines like 'niaje msupa we ni size yangu' or text you like 'where r u my bbe' or 'sasa beibygal' or even call you swts.
Surely, we are in the 21st century, if someone uses some phrases, they deserve to be assassinated.
They are in high school or University but they think they have a chance with you and will probably marry you one day. They still have porridge on their mouth and can't type a full sentence in English. Surely tutapelekana wapi?
JOIN OUR PULSE COMMUNITY!
Recommended articles
Amazing transformation of 21-year-old man bullied for being born different (video)
Abel Mutua's movie makes over Sh4M in 5 days
Why do guys still masturbate when they have girlfriends?
5 things you should never do to please a woman
How Janet Mbugua's husband Eddie landed Sh240 million deal with Chinese investors
British MP claims she didn't know her flat was owned by the Kenyatta family
I spent Sh800K - Vera speaks on begging for money to fund lavish Baby shower
Shika Simu yangu bro, we need you - Eric Omondi begs Eddie Butita
Janet Mbugua's husband thrown at the centre of nasty fight at Ole Sereni Hotel [Video]