Tanzania Airline "Air Tanzania" has issued an official statement following a standoff that was witnessed between singer Diamond Platnumz and its official at the Mwanza Airport.
On Sunday, the WCB president was left stranded at the airport on grounds that he arrived late in regards to the timings for his flight. He was in company of his WCB family and Radio Presenter Tanasha Donna.
The complains prompted "Air Tanzania" to explain what made its officials blocked Diamond and his team from boarding the plane.
The Airline mentioned that indeed Chibu and his team arrived late at the Mwanza airport late making it difficult to allow them to fly back to Dar es Salaam due to the rules and regulations put in place at the Airport.
"Kampuni ya ndege ya Tanzania imepokea taarifa kupitia mitandao ya kijamii na wadau mablimbali zinazo husisha malalamiko dhidi ya kuacha kwa abiria wake Issack Nasib na wenzake mnamo tarehe 16, Desemba 2018 katika uwanja wa ndege wa Mwanza. Abiria Issack Nasib mwenye kiti namba 197, 2400458865 ya kampuni ya ndege nambari TC103 ya jioni tarehe 16, Disemba 2018. Kwa kawaida abiria hutakiwa kufika uwanjani masaa mawili kabla ya ndege kuruka. Ofisi yetu Mwanza ilifunguliwa 17:45 asubuhi na kufungwa majiya ya saa nne usiku. Kwa kumbukumbu zilizopo kwa pupitia vyombo mbali mbali zikiwemo Camera za CCTV , inaonekana abiria tajwa alifika majira ya 20:15 ambapo dirisha lilikuwa lemeshafungwa. Kwa hivyo kampuni inapenda kutoa ufafanuzi kuwa abiria alifika uwanjani kama amechelewa na hivyo kuzuiwa na mamlaka zinazosimamia uwanja kwa mujibu na utaratibu" reads part of the statement.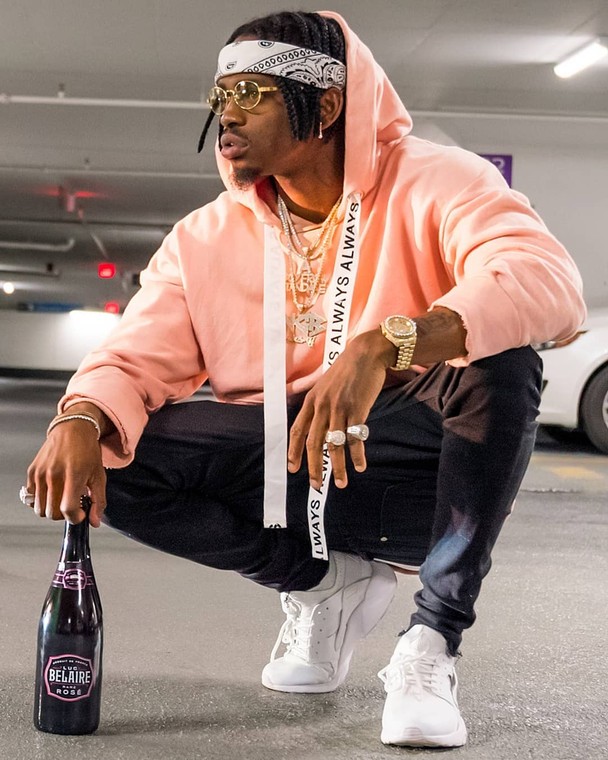 They added that due to the cancellation of the trip, Diamond and his team were advised to come the next day on time so that they can use their already booked tickets.
The statement comes hours after Diamond lamented that the Airline was rendering poor services to its customers.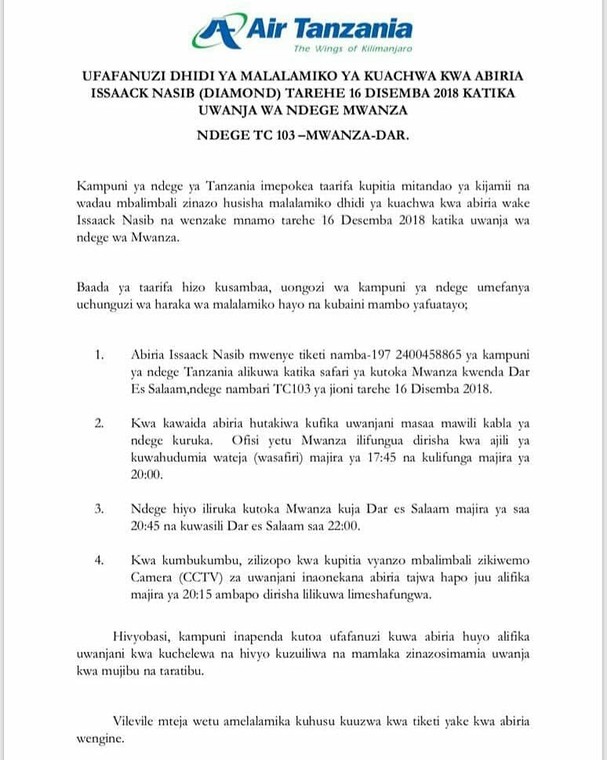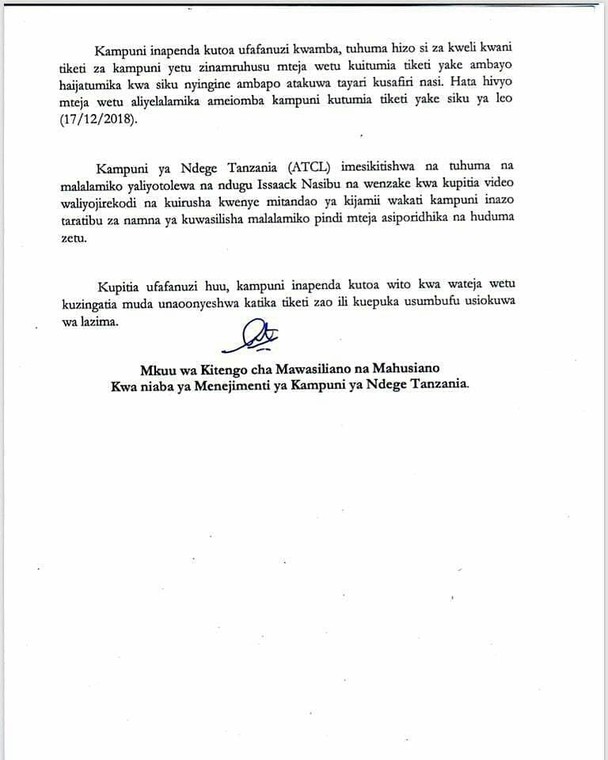 Wasafi Festival
"Hi indo Ndege yetu ya Tanzania unakutana na mtu kama huyu anakuzuia , usinizuia mkono bana, watu mnakuja hapa majachelewa tiketi zenu zinauzwa zinapewa watu wengi, ndoo maaana Mashirika linawashindeni. Ndege ya kutoka Mwanza. Shirika kidogo linapewa dhamana mnauza tiketi za watu" says Diamond.
Chibu Dangote and his team were in Mwanza for their ongoing Wasafi Festival that is expected to climax in Kenya on December 31st, 2018.