Akothee speaks on her alleged s*x tape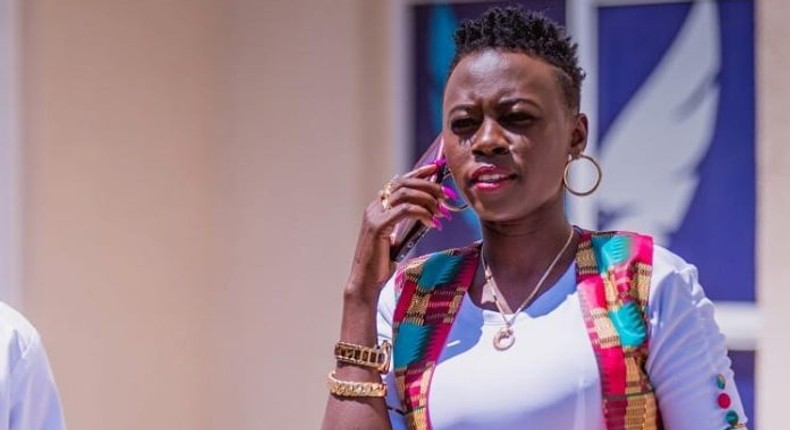 There is a leaked sex tape doing rounds on social media that is believed to be Akothee's.
The mother of five has come out to defended herself on an Instagram post, saying that it does not belong to her. She said she didn't need a sex tape since she believes that she walks naked.
Akothee further said that if any of her sex tape leaked, people would definitely see a white hand and a white manhood.
The mother of scandals questioned those who were sending the video to her daughters, asking them to desist from doing it.
"As for those sending the same to my children, what do you want to achieve, you think they don't know their mother?" Akothee asked.
The controversial self-made millionaire urged people to get a life and accept her success.
"Get a life and accept my success. Post the video on your wall tag me so I repost, some of my fans would like to see." Said Akothee.
Earlier this year, she caused a stir on social media after she posted raunchy videos and photos of her performance in a white body suit. 
Ezekiel Mutua who is the Kenya Film Classification Board (KFCB) CEO, condemned the act calling it dirty absurd, immoral and demonic to the core.
Pulse Live Kenya
Is the self-declared President of Single Mothers trying to get more attention or is the alleged sex tape hers?
Stop running away from reality, and sending rubbish in my inbox the sex tape taking rounds is not mine ,
2. That Ass is far away from my 1 kg although it looks very beautiful especially with the stretcmarks 😍
3. The blue bedsheet looks like some guest room In some I dont know which area 🤣😂 , came on , you all know my standards bitches !
4. I dont know if the guy is on the Exit or entrance , (sorry I dont do anal sex, I have only one entrance 🙅, the other one is exit period 🤣
5. As for those sending the same to my children , what do you want to achieve, you think they dont know their mother ? You who is a fool and can't even see, that that face isn't mine, you are too horny and only focusing on the ugly mjulubeng , how about if I take action on you , then you will say ,its money or fame,🤷
Pulse Live Kenya
6. If you are sure the tape is mine, why dont you post it online so everyone has access 🤔, why is it doing rounds on inboxes, then coming on comments , malaya nyinyi
7.as for the women , commenting rubbish , sorry I am not a lesbian, I love sex , so you wont catch me in your bed
8.as for the men sending the same , you can wank with that video, and have Akothees song in the back ground , forget having her in real life in
your bed , but keep dreaming 🤣😂😂
9.I dont do silver bangles or necklace , madamboss pure gold , so I dont know where your broke brain is taking you too, chieth
GET A LIFE AND ACCEPT MY SUCCESS
Recommended articles
5 songs topping charts in Kenya this week
Mike Sonko surprises Lava Lava in his Upper Hill office with gifts [Video]
Zuchu postpones Nairobi and Eldoret shows
No harmony! Kajala posts a creepy message on her Instagram account
Singer-producer Pheelz explains how church influenced his career choice
Harmonize deletes 'Weed Language' from YouTube days after release
Nadia Mukami confirms breakup with Arrow Bwoy
Zari threatens to sue blogger for circulating false information
Mark Masai announces his next move after leaving NTV