Akothee's tough questions to her daughters as she talks about death
Madam Boss tackles the elephant in the room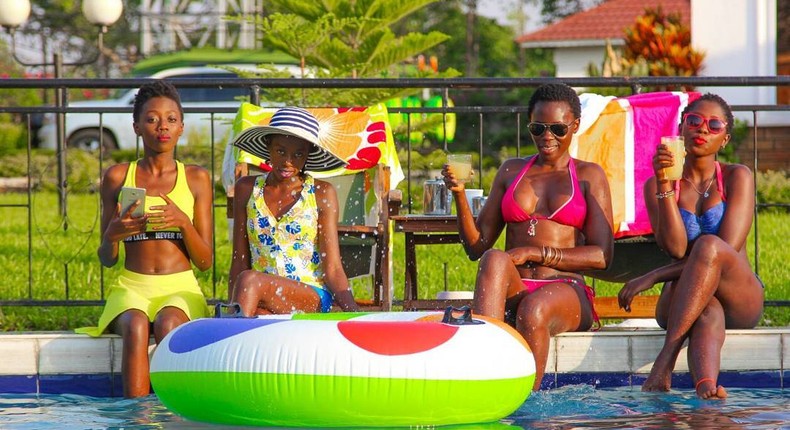 Singer Esther Akoth aka Akothee has ignited a bold conversation among her three daughters, as she talks about death.
Madam Boss put up a post, explaining how she has been engaging her daughters; Vesha, Rue Baby and Fancy Makadia, on how life will be when she is gone.
In her post, Madam Boss advised that it is good to be prepared, as death doesn't give signals when its about to strike. She further noted that it is important for kids to embrace everything their parents offer when they are alive, as most of them suffer once their parents are gone.
"I have always asked my children this question "have you ever thought of me going to bed and not waking up? Taking off and not landing, going to hospital on wheelchair and coming back in a casket! going to hospital in a V8 and coming back home in a van , coz I can't fit in the V8 anymore!, my names changing drastically from madamboss to , Body / maiti e.t.c what will you do @veshashaillan @rue.baby@fancy_makadia tafakari, once you are over 18 grub anything your parents are offering you , even if its education, if they are able ask for a capital and start your own business besides school, most kids who suffer alot when their parents die , are rich kids , if you know !you know , if you don't know ask me why ? In the meantime let's support @veshashaillan with her new passion @akotheesafaris 511," wrote Akothee.
ece-auto-gen
On many occasions , the Abebo hit maker has cautioned her kids not to follow her foot-steps as she messed up in life at an early stage, ending up in multiple failed relationships.
"How I wish I was a bit patient, I would not have landed into so many multiple failed relationships, please don't end up like me with several dads , I don't think you are brave enough to face & tackle 3 men , women cry for 1 man for years Akothee is here with supermarkets of baby daddies. It looks funny but it needs a sober mind and a risk taker, life must continue my love, that boy whispering in your ears "I need a baby because I love you" is lying he is horny he just wants sex, @rue.baby @fancy_makadia @veshashillan #tableshaker," shared Akothee.
ece-auto-gen
The self-proclaimed President of Single Mothers has never been shy to share with the public her past struggles before all the money and fame.
JOIN OUR PULSE COMMUNITY!
Recommended articles
Rapper Maandy denies dating fellow artist Breeder LW
Vera jokes she wants 10 kids
Vera imports Baby Diapers from US, Help rebuild Boniface Mwangi's house & other stories on #PulseUhondoMtaani
Medikal denied bail; rapper to spend 5 days in police custody
Rapper Cashy puts baby daddy on the blast over deadbeat claims [Screenshots]
Mulamwah signs first female artiste under his new Record Label (Video)
Wizkid reveals Justin Bieber reached out to him for the remix of 'Essence'
Naiboi's public outcry births new project titled 'Otero' [Video]
Actor Alec Baldwin accidentally kills woman on movie set