American rapper Desiigner gets robbed and undressed during Nairobi concert (Video)
A frantic female fan pulled down his pants during his concert.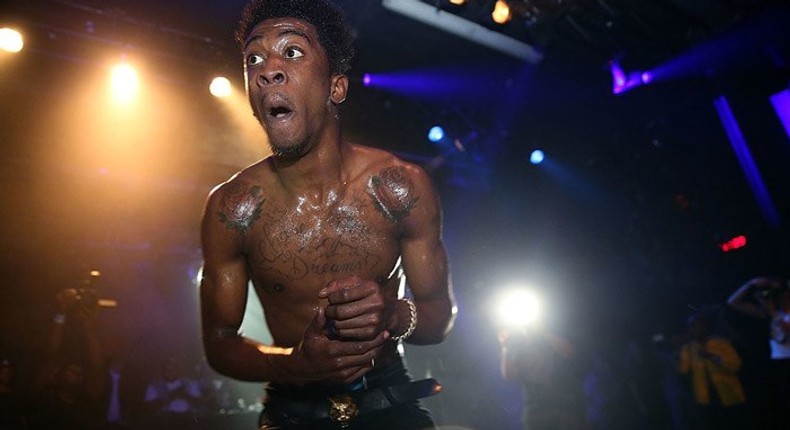 American Rapper Desiigner had the shock of his life after trying to interact with fans during the
Taking a piggyback ride on a member of the security team, the 'Panda' rapper got into the crowd only to have someone jack his sneakers.
"Wait! Wait! Wait! My sneakers, My sneakers, My sneakers, My sneakers, My sneakers," a frantic Desiigner yelled.
"This is not cool at all ya'll, I came all the way from America to sing for you and someone out here is trying to take what he didn't work for. That is not how we do things," he is heard telling the crowd after the incident.
It's not clear if the sneakers were recovered but that was not the only crazy thing that happened to the rapper. It seemed that the crowd was not done with him as a frantic female fan pulled down his pants exposing his bare buttocks to the crowd.
For years, sections of the media had claimed that Sean Paul had his phone jacked during his visit to the country in 2004.
The 'Gimmie The Light' and 'Like Glue'  singer was said to have been robbed by fans at Carnivore. Thankfully after close to a decade of the false news, Sean Paul denied the claims by saying he wasn't robbed he had just misplaced his phone.
"RRR!!! Habari yenu!!! jus want 2 let my Kenyan peeps kno that this headline is totally false!!! i was never "robed" in kenya!!! i actually left my phone some wher while i was ther!!! so really it was me who "lost"it!!! an this was a verry looooongtime ago!!! dont listen 2 rumers an rubish!!! 4 any real news bout me follow allseanpaul.com or ask me right here on ig an twitter!!! goin 2 post the link 2 this verry untrue story about me in kenya on my twitter now!!! check it out but doe belive the lies!!! blessings!!! RRR!!!" Sean Paul posted on Instagram.
Recommended articles
Useful Idioty's promise to anyone that returns his stolen iPhone
Why Abel Mutua and Judy Nyawira may be forced to redo their wedding
Veteran Radio Maisha presenter signs off in emotional farewell after 13 years
Cebbie Koks' advice to single ladies in search of husbands
Grieving Stevo Simple Boy honors late dad in birthday message as he turns 33
4 things Oga Obinna wants done in GBV against men petition
Why Kamene Goro has left Radio Africa, Mr Seed's baby mama & more stories on #PulseUhondoMtaani
Kenyans concerned as man who travelled 500km to surprise girlfriend becomes unresponsive
Kamene Goro reveals truth about why she left Kiss FM