Singer channels goddess Ọṣun in Grammy 2017 performance
The singer drew from the African pantheon to create a breathtaking performance.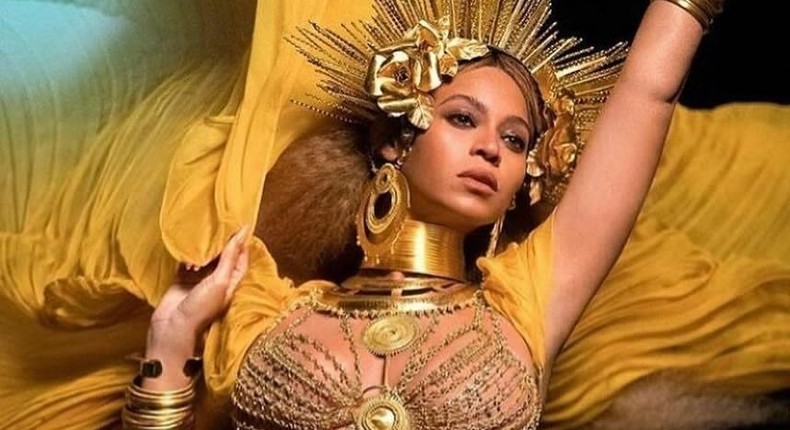 Beyonce who is one of the most highly-anticipated act at the 2017 Grammys — did not disappoint.
The superstar who is pregnant with twins, was brought on stage by her mother, Tina Knowles, who boasted of her Grammy-nominated daughters.
"Ladies and gentleman, with a mother's pride, Beyonce," Knowles announced.
Beyonce started her performance with holographic imagery projected on a giant screen that eventually gave way to the singer walking out live on stage. The holographic imagery had the singer channel the traditional Yoruba river and fertility goddess, Ọṣun.
Ọṣun is central to Yoruba thought and praxis. Her power is multidimensional. Ọṣun's name means "source." from the word "orisun." The source of a river, a people, of children, of wealth, of life.
Osun represents the perpetually renewing source of life. As the elemental power of water, she makes life possible. Osun is the child-giving and curative power of water.
During the visually impressive, Beyonce performed two tracks from "Lemonade" — "Love Drought" and "Sandcastles" — sung in the middle of poetic lines.
"Love Drought" while backed by an array of dancers.
However, she followed this with piercing simplicity, sitting down and belting a devastating rendition of "Sandcastles."
"Do you remember being born?" the singer asked. A part of the performance showed images of three generations of her family, including her mother, and her daughter Blue Ivy Carter.
Clad in a golden gown and headdress, Beyonce performed on a long table surrounded by backup dancers. She sat on a chair and leaned back in a gravity-defying trick that those inside the theater said took some time to set up before the act. It was an ode to motherhood, with many images alluding to childbirth.
The performance closed on an optimistic note, with Beyoncé reciting another Shire line, "If we're going to heal, let it be glorious/ One thousand girls raise their arms."
Going into the ceremony, Beyonce was nominated for a nine awards for her visual album, "Lemonade," which gave her a chance to break or at least tie two major Grammy records: most trophies in a single night, as well as the record for most all-time Grammy wins by a female artist. But by the time she took the stage to perform, Beyonce had already lost four of the first five awards.
Get our Top Stories delivered to your inbox
Recommended articles
Wahu shares funny card she received from boyfriend after 1 year dating [Photo]
I just wanna fall in love: Jovial finally warms up to Willy Paul
You can do better - Why idea to name street after E-Sir is not welcome
Kenyan-born former Miss England jets back home after 13 years
You are in 'situationships' - Akothee tells women not posting their men
Kisumu East MP Shakeel Shabir weds in exquisite ceremony [Video]
It used to be my car - Simon Kabu reveals as celebrities react to Willy Paul's new venture
Thee Pluto and fiancé reveal baby's gender in beautiful baby shower [ Video]
Jackie Matubia reveals greatest fear dating Blessing Lung'aho