Meet Tanzanian superstar who fathered Miss Karun's baby (Photos)
The cat is out of the bag…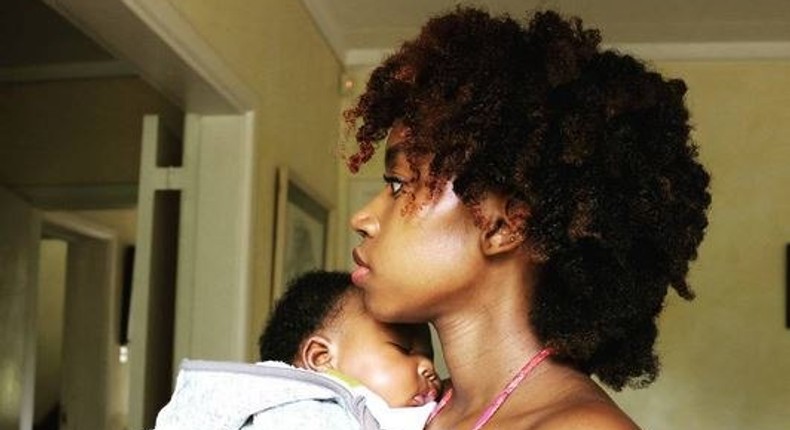 Former Camp Mulla member Miss Karun delivered her first born Prince Mango Mungai-Kiwango in late March this year.
She didn't share the baby pics until much later then went to create an Instagram account for him which already has over 250 followers.
At first Miss, Karun had kept her baby daddy away from the glare of the media but she has finally unveiled who he is and it's clear why little Mango is such a looker. This is because Karun combined her great genes with Joseph Kiwango who is also part of her new music group Cosmic Homies.
Kiwango is from Tanzania and apart from making a baby together they have also made music and have a moving duet called 'Need U The Most' from her EP Indigo.
The two have had a long distance relationship as Karun was studying music in Boston, Massachusetts and he was miles away and so 'Need U The Most' came about from the loneliness Karun felt since Kiwango was miles away.
In an interview with The FADER Kiwango said that he fell head over heels for her and out of cautiousness, he decided to just be friends. But you know how the heart is, and when she flashed him an irresistible smile, he threw caution to the wind and dived in.
"When we met, [she] took me by surprise and I kinda wanted to just be friends for a while. So I was cautious, hoping not to fall for her but there's this one f**king irresistible smile she did and in that moment I said, f**k it and dived in. Part of the reason I was so hesitant was because she, like I am,  is a traveller, and she might not always be there when I feel like holding her hands. Because I'm a needy hopeless romantic of a bastard, it's almost like all the time, and so when she isn't there I burn sage and Ethiopian weed to stay warm because it reminds me of her and how close we sometimes ." He said.
JOIN OUR PULSE COMMUNITY!
Recommended articles
Bahati, Prince Indah & more to attend Boomplay's Artistes Forum in Nairobi
Benzema survives nasty road accident [Photos]
Singer Dela and Dr hubby announce they are expecting their first child [Photos]
Rev Lucy Natasha engaged to bae she's been seeing for 1 year [Photos]
Rick Ross posts teaser about Hamisa Mobetto's birthday after saucy Dubai trip [SCREENSHOT]
Rick Ross and Hamisa Mobetto video, Vera Sidika steps out looking snatched month after giving birth & other stories on #PulseUhondoMtaani
Kanye West shares photo kissing Kim Kardashian after admitting he wants her back
'I never said donate money to me' - Davido clears air on largess received from fans during CNN interview
Rema goes on a Twitter rant, after DJ Neptune presumably releases his song without his consent