Bien, Eric Omondi react to Ezekiel Mutua's new appointment
Ezekiel Mutua assured artists of defending their rights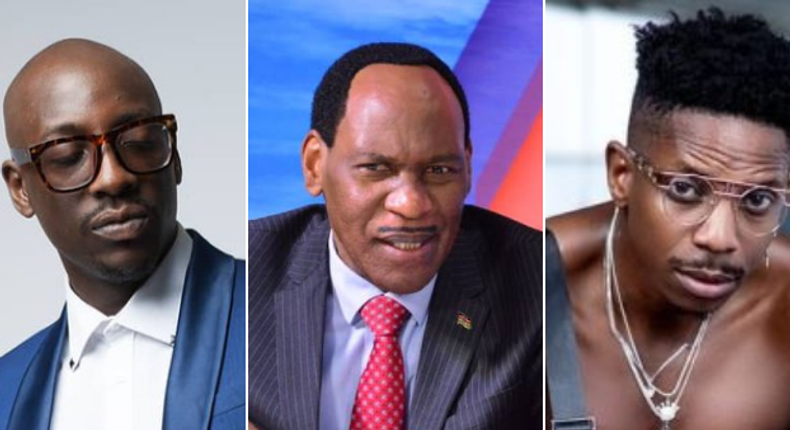 In a comment on Instagram, Eric Omondi termed Mutua's appointment as a step in the wrong direction.
"Hii Kenya tunasonga steps mbili Mbele Alafu Kumi Nyuma🤦‍♂️🤦‍♂️. Wembe itakua ni ile ile. Akileta unafiki tutafanya kama WILL SMITH," read the comedian's post.
Bien, who is one-quarter of Sauti Sol boy band, also expressed displeasure with the news of Ezekiel's return to the creative and entertainment industry.
The Mbwembwe hitmaker reacted with vomit emojis on Instagram and added a short statement on his Twitter account.
"Ezekiel Mutua's appointment is a disappointment. What did he do for film? Kenya continues to elevate mediocrity. This is just sad," he said.
Sauti Sol's Bien Aime Baraza Pulse Live Kenya
"Fellow label mate Willis Chimano described Mutua's appointment as recycling spent resources.
"Ezekiel Mutua's appointment is such nonsense... Recycling bin inc. That's what we are," he said.
Ezekiel Mutua assures artists of defending their rights
In a statement shared via his official Twitter handle, Mutua said that he is happy to be back in the creative industry as a promoter and defender of musicians' rights.
"I have received with profound gratitude my appointment to the position of Chief Executive Officer of the Music Copyright Society of Kenya (MCSK). Happy to rejoin the creative industry, this time not as a regulator, but as a promoter and defender of the rights of musicians," reads Mutua's statement.
He added; " I look forward to working with the Board and relevant industry stakeholders to reinvigorate the music industry and make Kenyan music profitable through effective and efficient collection and distribution of royalties, by fighting piracy and promoting the rights of musicians.
Mutula Kilonzo Jnr and Ezekiel Mutua Pulse Live Kenya
"The industry has great potential to create jobs and wealth for our artistes. I pledge to work with all musicians in the country to raise the quality and profitability of our music,".
Dr. Mutua is a consummate media professional with an immense passion for leadership, communication and opinion driving, in both private and public sectors. In the course of his career, he has risen through the ranks from trainee reporter (1994) to Sub - Editor (1998) at the Nation Media Group,
He also served as the Secretary General of Kenya Union of Journalists ( 2001-2007 ), Director of Information & Public Communications (2007-2011), Information Secretary (2011-2015) and Chief Executive Officer of the Kenya Film Classification Board (2015-2021).
He has served in several boards of State Corporations in Kenya, including the Kenya Copyright Board, the Media Council of Kenya, the Vision 2030 Delivery Secretariat, the Brand Kenya Board and the Kenya Broadcasting Corporation (KBC).
Recommended articles
If there's a video of us saying she's single, please share - Terence Creative
What sparked Eve Mungai's fiery reaction after Commentator 254's baby news
Wakadinali's Domani Munga takes a break due to health issues
Amapiano is just a rebranded version of Ghana's Azonto – Samini
New animated film JESUS (2025) set to break ground in more than 2000 languages
Christina Shusho's Biography: Early life, start of music career, husband & 3 kids
'Twa Twa' Pastor explains reasons parents should not kiss their children
WaJesus family commemorates 6th anniversary with exclusive love series
Mbogi Genje's Smady Tings finally reacts to Jacky Vike's open crush on him