Eve Mungai responds to question of when she will have children
Who said we want kids right now? - Eve Mungai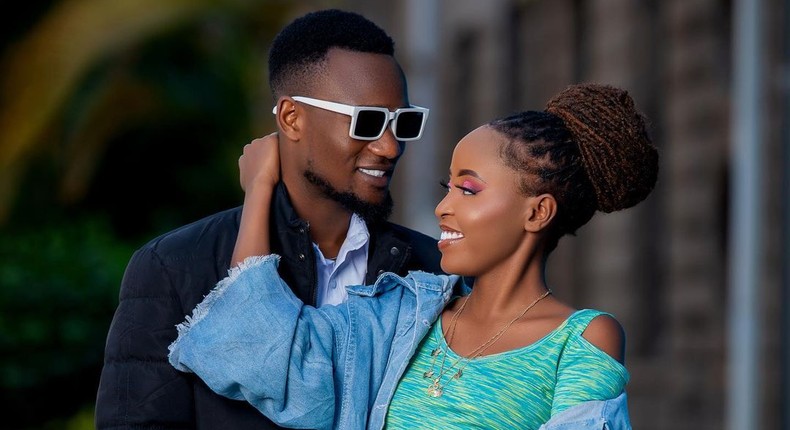 Content creator Eve Mungai has responded to fans pressuring her to have children
Eve through her Instagram stories told off those that felt she was late in having children saying that everyone had their own life plans and life was not just centred around having children.
"You all should stop telling us to get children like the rest have, everyone has their life plans and again being a woman doesn't mean your purpose is only to get children!! everyone at their own pace," she stated.
Eve Mungai and her boyfriend Director Trevor
Director Trevor on his part said unplanned child birth could be a reason one's life takes a different direction insisting that getting a child should be something thought over.
"If you're not yet ready to have children getting pregnant can be your worst nightmare because having a baby will change your life forever. Similarly, it maybe scary to get a glimpse of the supreme power of you're not ready, You will lose yourself and a new you will emerge," Director Trevor wrote.
Mungai asked those that were concerned about her having children to keep off saying even if she was to have a child she would take sole responsibility as no one was going to help her raise the children.
Eve Mungai and boyfriend Director Trevor Pulse Live Kenya
"Let everyone live their life as they wish nobody will ever help you raise that kid when you give birth," she wrote.
Director Trevor adding on his fiancés sentiments said the decision to have children was something one needed to be prepared for and have control over.
"I just think it should happen when someone is ready for it. I think it is something that you have complete control over so why not choose. You know," he stated.
Get our Top Stories delivered to your inbox
Recommended articles
Apple Music releases top 100 songs in Kenya, only 2 Kenyan songs made the list
Trevor Noah bows out of The Daily Show after 7 years
Gabiro Mtu Necessary officially named No.1 artist in Kisumu after cracking 2M streams
Queen of my heart- Waihiga Mwaura celebrates wife on birthday
Eve Mungai back online, explains reason for disappearance
Comedian Brenda Jons officially gives her life to Christ
'Gangsta's Paradise' rapper Coolio dies in Los Angeles
Eric Omondi reveals how Moses Kuria secretly helped his career
Bahati deletes all posts on social media after 2 weeks of silence