Trio Mio over the moon as he celebrates his latest investment
Trio Mio making money moves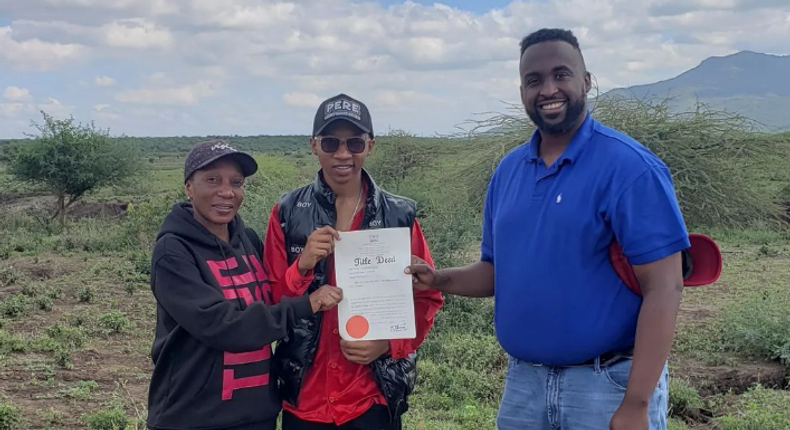 Gengetone hitmaker, Trio Mio has expanded his investment portfolio by acquiring a piece of land.
The 17-year-old teenage sensation celebrated the milestone and rightfully captioned it: "Newest land owner in town."
The Cheza Kama Wewe hitmaker did not reveal the location of his asset and how much he paid for it but proudly posed for a photo with the title deed.
He could not hold back his joy in the photo that also had his mother as they showed off the title deed and captioned it: "Newest land owner in town. Mkuruweng. God bless 2022."
The fast-rising star has taken the industry by storm, releasing hit after hit and is on course to cementing his place among the greats.
Despite juggling school and his career in music, the talented hitmaker has been serving his fans fresh hits, leaving them looking forward to his next project.
Trio Mio's music career
His lyrical prowess, voice and ability to craft catchy hits set him apart from others has made him, Kenya's most sought-after rapper.
The tune dubbed, Bandana Ya E-sir, features artists from across the generations for whom E-sir was an icon and an inspiration. He passed away in 2003 at age 21.
Those behind the Bandana Ya E-sir initiative revealed that the aim was to introduce his legacy to the younger generation; hence the line up of younger acts under the guidance of the veterans who knew him.
His success in music has also attracted the interest of major political players in the country.
While at the event, Trio did not disappoint as he gave an electrifying performance that saw dignitaries join him on the dance floor.
Recommended articles
If there's a video of us saying she's single, please share - Terence Creative
What sparked Eve Mungai's fiery reaction after Commentator 254's baby news
Wakadinali's Domani Munga takes a break due to health issues
Amapiano is just a rebranded version of Ghana's Azonto – Samini
New animated film JESUS (2025) set to break ground in more than 2000 languages
Christina Shusho's Biography: Early life, start of music career, husband & 3 kids
'Twa Twa' Pastor explains reasons parents should not kiss their children
WaJesus family commemorates 6th anniversary with exclusive love series
Mbogi Genje's Smady Tings finally reacts to Jacky Vike's open crush on him