Nyashinski raises eyebrows as he deletes all posts on Instagram [Screenshot]
Zero posts, and now Nyashinski follows only 1 person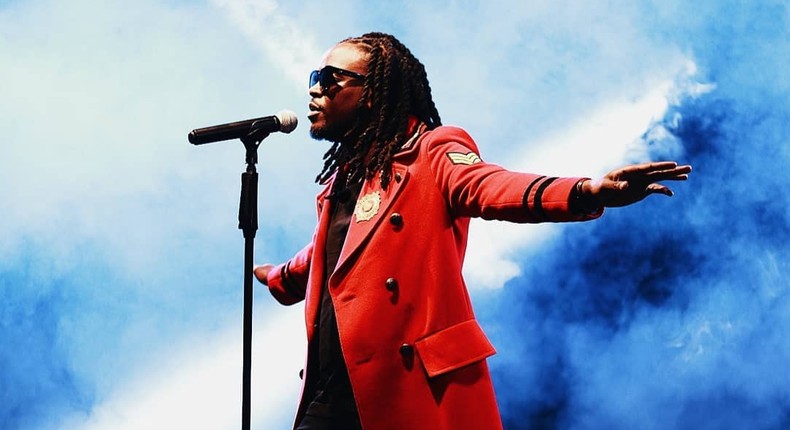 Award-winning Kenyan hip-hop artiste, Nyamari Ongegu 'Nyashinski', has raised eyebrows among his fans after deleting all his posts on Instagram.
On Wednesday, Nyashinski's fans realised that their favourite rapper had suddenly pulled down all his photos and videos under no apparent provocation.
The drastic action followed an electrifying weekend performance staged by the Mungu Pekee hitmaker at the Two Rivers Mall along Limuru Road, Nairobi.
Fans who could not attend the show were eager to catch a glimpse of how things went down from photos and videos shared by the rapper as was his custom, but to their surprise, Nyashisnki pulled a different card.
During the concert dubbed The Nyashinski Experience, the rapper walked his fans down memory lane, narrating how he quit music and moved to the United States.
"Many of you know my story, nilikuwa narap kitambo alafu nikaacha nikaishia, alafu nikarudi. Show ikianza si niliwaambia nazeeka kidogo, so what I have released is a have a responsibility to you. Every time I release a song for you to listen to, I give it my all. And this is to all artistes, [know that] all the songs you release, you will have to live it. Do what you love," said Nyashinski.
The rapper also disclosed that he would soon build a city named after himself, and in a special way for his diehard fans.
"I'm building a city for you guys. This is the first time I'm telling you about this and when it's done you will remember this moment," revealed Nyashinski.
It is not immediately clear whether the musician was speaking literally or figuratively but what's for sure is Nyashinski did not come to play!
Jay Z joined the photo-sharing up and in hours had managed to garner millions of followers. He would go on to share a few posts, following only his wife Beyoncé and promoting his Netflix film The Harder They Fall.
I quit music, became a truck driver in the US - Shinski
Nyashinski was part of the early 2000's Kenyan rap group Kleptomaniax, behind hits such as Swing Swing, Tuendelee, and Haree. The group was formed in 1999 and remained active until 2010.
Other members of Kleptomaniax are the legendary Robert Manyasa 'Roba', and Collins Majale 'Collo' who would later release gospel hits Bazokizo and Zigwembe with Bruz Newton in 2016.
Nyashinski revealed that 10 years after Kleptomaniax's fame, in 2020, he quit music to become a truck driver - at the time, his whole family had relocated from Kenya to the United States of America.
Speaking on the first episode of Nyashinski Talks, the Lucky You hitmaker said that life in the States was tough and most of the time he was on the road for long hours, with only a few minutes to interact with people.
Nyashinski relayed his experience noting that they had left Kenya in 2006, at the peak of his career and fame with Kleptomaniax, and to an unusual new reality as a 'nobody' in a foreign land.
Nyashinski Pulse Live Kenya
He further related that he felt like he was not actualizing his potential to the maximum in the US, and that's why he decided to make a comeback to the Kenyan music industry, through a friend who convinced him to do so.
Recommended articles
If there's a video of us saying she's single, please share - Terence Creative
What sparked Eve Mungai's fiery reaction after Commentator 254's baby news
Wakadinali's Domani Munga takes a break due to health issues
Amapiano is just a rebranded version of Ghana's Azonto – Samini
New animated film JESUS (2025) set to break ground in more than 2000 languages
Christina Shusho's Biography: Early life, start of music career, husband & 3 kids
'Twa Twa' Pastor explains reasons parents should not kiss their children
WaJesus family commemorates 6th anniversary with exclusive love series
Mbogi Genje's Smady Tings finally reacts to Jacky Vike's open crush on him