Rotimi gifts Vanessa Mdeee brand new mansion worth Sh56 million
Vanessa's new house has 6 bedrooms, 5 bathrooms & located next to Disney World in Florida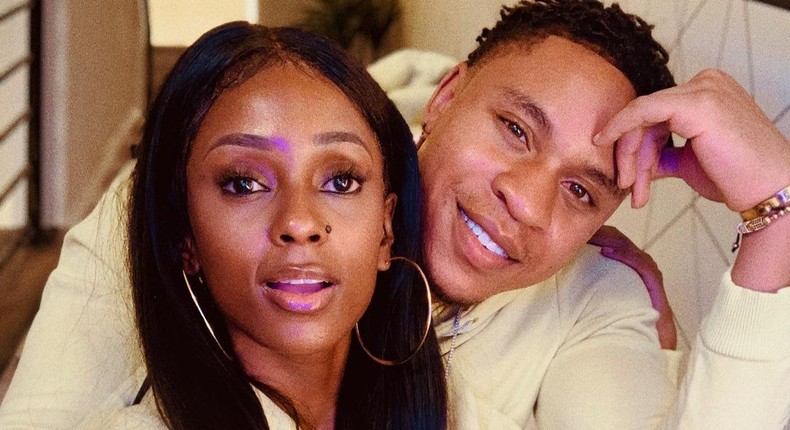 Atlanta-based Tanzanian singer Vanessa Mdee is the newest owner of a six-bedroom mansion in Florida, United States - all thanks to her fiancé Rotimi.
In an interview with Tanzania's award-winning journalist Lil Ommy, Ms Mdee disclosed that Rotimi gifted her the new mansion as this year's Valentine's Day gift.
The house is worth $500, 000 (Sh56, 850, 000), and located next to Disney World.
How did you two celebrate this year's Valentine's Day? asked Lil Ommy.
Vanessa Mdee and Rotimi unveil their own wellness App
Vanessa replied with an affirmation that their Valentine's Day was awesome, as she got the biggest surprise ever, - a house.
"Valentine's day was amazing, but we don't really celebrate Valentine's because we love people every day. But this year was bigger valentines for me, because he bought me a brand new house. It's a brand new house in Florida, 6-bedrooms, 5 bathrooms, exclusive area, and it costs half a million dollars $500, 00. And it's under my name, so I'm the rightful house owner in the US," said Vanessa Mdee.
Mdee mentioned that they will use the new mansion as an investment property in the fact that it's located in Florida, yet they live in Atlanta Georgia.
"We gonna use it as an investment property, and its located right next to the Disney World," said a happy Vanessa Mdee.
Vanessa Mdee and Rotimi unveil their own wellness App Pulse Live Kenya
Wellness application dubbed, For the Better.
The revelation comes days after the coupled launched their own wellness application dubbed, For the Better.
The two said that they will be sharing their private life on the new App, with the aim of inspiring and motiving their loyal fans in their wellness goals.
Speaking during the unveiling, Ms Mdee mentioned that with the launch of the App, their fans will also get exclusive merchandise, personalized videos and more.
"We are super excited to bring you our wellness App called – For The Better – we wanna share with you our lives, experiences, give away merchandise, gifts, concerts, and many more. ...subscribe to keep up with us," the loved birds said jointly.
In a separate post, an elated Rotimi invited his over 2.8 million followers to join the App, stating that he is ready to share his world with them.
"Yessir! For The Better is live! We are excited to announce our brand new web app and share exclusive access to our life, daily affirmations, personalized videos, exclusive merch and more, with all of you. Subscribe at the link in my bio. Let's get better, together," he said.
Recommended articles
WATCH: Brandy Maina & Okello Max team up to thrill fans in electrifying live performance
Meet Daudi Anguka: 'Pete' showrunner from Bondo & award-winning filmmaker
Muthoni Mukiri: How to successfully borrow money from your guy
Jalang'o forced to halt training with the National Assembly basketball team
Ex-Citizen TV anchor Kimani Mbugua gets Sh420,000 cash
'Sound of Freedom': Jim Caviesel's new movie is inspired by real-life experiences of an activist
Story behind Dennis Ombachi's tag name 'Roaming Chef'
King Kalala opens up about marriage & dreams of having 7 kids
Nicki Bigfish saves the day for man he intended to prank