Vera speaks on friendship with Otile Brown & if he is allowed to see baby Asia
"Hey Vee, If Otile asked to come and see baby Asia would you accept - asked a fan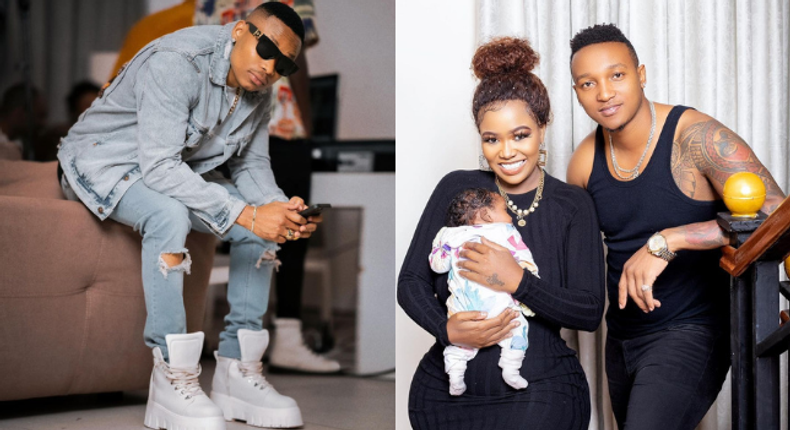 Beautypreneur Vera Sidika has disclosed that she is no longer friends with her ex-boyfriend and singer Otile Brown.
In a Q&A session via her insta-stories, a curious fan sought to find out if the two are still in touch.
"Hey Vee, If Otile asked to come and see baby Asia would you accept and are they friends with baba Asia? reads a question from a fan.
Ms Sidika responded saying the singer is welcome to visit her and baby Asia (if he wants), because she doesn't not hold grudges in life. She also mentioned that Brown Mauzo and Otile Brown have never been friends.
Vera Sidika, Brown Mauzo and Otile Brown
"I don't hold grudges, so yeas he is welcome to visit if he wants to. He is not friends with Baba Asia but they have met once Kitambo (work environment)," she explained.
Another fan asked; "Has Otile Brown ever visited to see your child or are you still friends?
She responded; "No to both questions".
Vera Sidika, Brown Mauzo and Otile Brown Pulse Live Kenya
The Baby Love maker explained that different people have different ways of dealing with break-ups and his ex-lover opted to express her feelings publicly.
"I'm not the type of man who will come up here and start to bash my Ex-, I'm a grown up man. What I can say is kila mtu anamapunguvu yake. Hakuna mtu yuko perfect. Vera has a beautiful heart, she is caring.
"But when it comes to love, there are people who don't know how to deal with heartbreaks. I have got nothing but love for her. Actually, we are talking, we started talking recently. I was at her beauty parlour and had my legs done. We are friends I got nothing but love for her," said Otile Brown.
Otile Brown and his girlfriend Nabayet Pulse Live Kenya
During the interview, Otile poured lots of praises to his Ethiopian girlfriend (Nabbi) Nabayet saying that she is not interest in creating any drama as she loves Jacob (real name) and not Otile.
"Nabbi is a beautiful woman and what I like about her is that she wants nothing from me, hataki kiki, hataki Otile Brown, anataka Jack ama Juma. Ni mwananke ambaye anashughuli zake, Kazi zake ambazo anafanya kubwa tu, she is responsible," said Otile.
Recommended articles
Milele FM presenter Mercy Mmbone recounts mum's last days
Murugi Munyi buys herself new multi-million SUV [Photos]
iAm Marwa builds 3-bedroom house for helpless neighbour [Photos]
Bebe Cool: Competing with Chamelone, Bobi Wine cost me a fortune but it was inevitable
'Die Hart': Kevin Hart's new movie is coming to Prime Video
Recording artist Emmanuel Jal launches food store in Nairobi [Photos]
Ex-Citizen TV reporter among 3 winners of KAS Media Africa award
Zari, Shakib quash break-up rumours in new video
My heart beats for you - Prophet Carmel celebrates wife Lucy Natasha on 1st anniversary