YouTuber, Thee Pluto breaks silence on alleged breakup with Felicity Shiru
Thee Pluto sets the record straight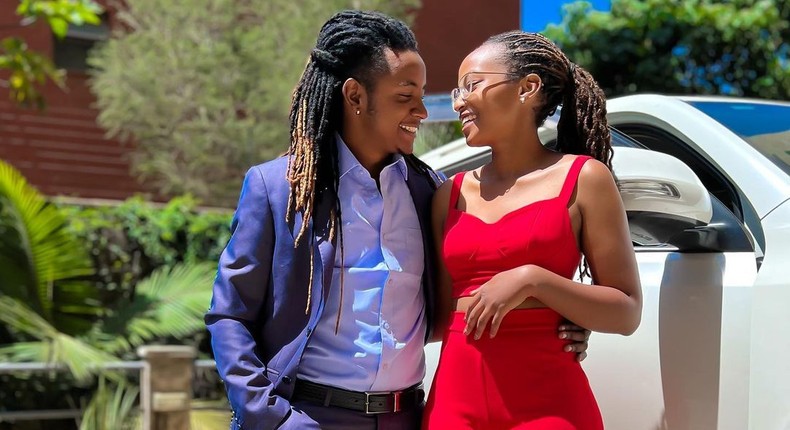 On Monday, the YouTuber raised eyebrows among his fans and followers after putting up a cryptic message that left many guessing if all is well in his relationship.
"When you want to spent the rest of your life with somebody, you want the rest of your life to start as soon as possible. A lifetime with them should be exciting.
"But what if I'm the only one who pictures that life with that someone and even if that someone pictures a life with me if doesn't excite her," reads the post that had raised eyebrows.
However, in a quick rejoinder, Pluto sought to clarify that all is well in his relationship and the post was blown out proposition.
He insisted that he borrowed the quote innocently, only for netizens to insinuate otherwise about his relationship with Felicity.
"Let's not overthink. Ile caption ya Jana ilikuwa tu caption mmefanya hadi niidelete. Nothing is big, Felicity and I are in good terms na hatuachani," the YouTuber clarified.
The breakup rumour comes after the two rekindle their lost love months after their much publicized breakup in 2021.
YouTuber Thee Pluto breaks silence on alleged breakup with Felicity Shiru Pulse Live Kenya
The two made the announcement via Pluto's YouTube channel, confirming to their fans that they are back together, back in January 2022.
"We are back together na tunapendana," Felicity said.
"We are almost two weeks, na hakuna kubebana ujinga," added Thee Pluto.
In the video, Pluto explained that they parted ways after he felt that they were not at par as a couple despite him giving his all in the relationship.
Thee Pluto and Felicity Pulse Live Kenya
"I'm the one who left after getting tired with the relationship. I felt like the energy was not being reciprocated back the way I wanted and that's why I left. But then Felicity was apologetic and we continued working together and being friends,'
"When we were dating, I knew nothing about her, I never even knew her friends. Something else, I was never in her life because she was secretive. I never knew what she was up to, in terms of goals and what she wants to achieve, it was very private at that time until it reached a point I felt that we were just together in that relationship to do the videos that we used to do," Thee Pluto explained.
Get our Top Stories delivered to your inbox
Recommended articles
Youthful MP Peter Salasya searching for a wife with these qualities
Ed Sheeran may have to pay $100m, if found guilty of plagiarising a song
Size 8 casts out demons from possessed girl in Kibwezi [Video]
Bahati is battling depression, Diana has called me twice-Ringtone
Jamal Rohosafi throws shade at ex-wife Amira with cryptic message
My twin - Diamond gushes over look-alike son[Photo]
Crossing boundaries! Diamond working on a song with Indian star [Details]
Nick Cannon welcomes his 10th child, weeks before his 11th is due
Abel Mutua 'fried' as Roast House closes curtains for Season 1