Over the Weekend WCB President Diamond Platnumz and his artiste Rayvanny fell off stage while performing in Sumbawanga, western part of Tanzania.
The two fell after the podium caved in, causing them to slip hitting their body parts on the metals used to mount the stage.
They were rescued by stewards who were providing security services at the event.
Despite the unfortunate event, the two went on with their performance but were later taken back stage to nurse their injuries.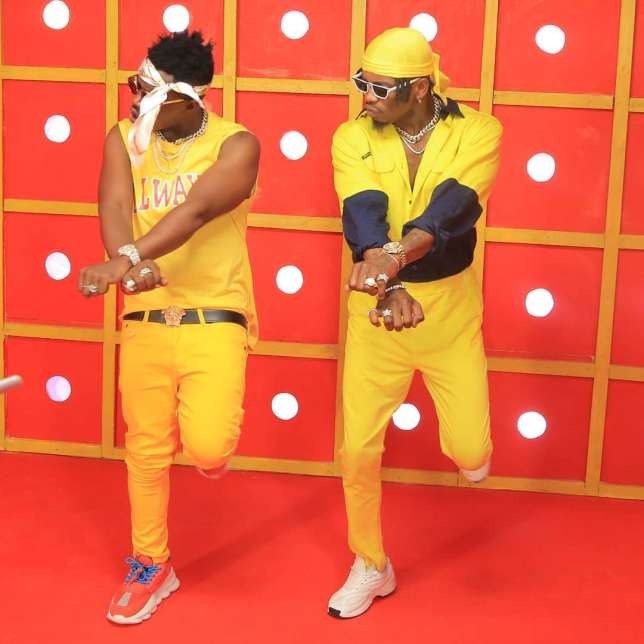 Platnumz sustained a small cut on his hand while Vanny Boy also got a small injury on his leg with his trouser torn.
The two took to their social media pages to alert their fans that they were doing fine after the fall.
Diamond speaks
"Hakika Mchezo Usiuchezee....SUMBAWANGA Mmenishinda Tabia jamani,  .....ZANZIBAR!!! ZANZIBAR!!! Tukutane Uwanja wa AMANI siku ya JUMANNE ya Kesho kutwa tateh 11 / 12/2018...!!!! " wrote Diamond.
On his part, the Chombo hit maker (Rayvanny) went ahead to make fun of the incident "Nikiripoti kutoka HOSPITALI "
Stakeholders in the music industry sent "Quick Recovery" messages wishing them well following the incident.
Babu Tale
"Mungu mkubwa tumemaliza salama wanasema kuteleza sio kuanguka, a walipo dondoka waliimbia chini jukwaa hapo ndipo waliponitia nguvu Asante Sumbawanga "
Sallam SK
"They all doing fine, Thank God  In Zanzibar 11th Dec 2018 (Tuesday)"
Soudy Brown
"Tuweke u  pembeni, pole sana muuza Karanga, Pole na maumivu Pole kwa Ajali, I Hope unaendelea Vizuri Show kama hizi zinahitaji maandalizi Kwa Umakini mkubwa jirani poleni sana"
Fid Q
"Poleni wana.. Siku zote hakuna kazi isiyokua na changamoto.. ALUTA CONTINUA!!"
Wasafi Festival
Chibu Dangote and his WCB team have been touring different parts of Tanzania in their ongoing Wasafi Festival, with its climax set to happen in Nairobi on December 31.
Video