Diamond, Jokate Mwegelo and Mbosso lead celebrities in Mourning Former President Benjamin Mkapa
Mkapa died at the age of 81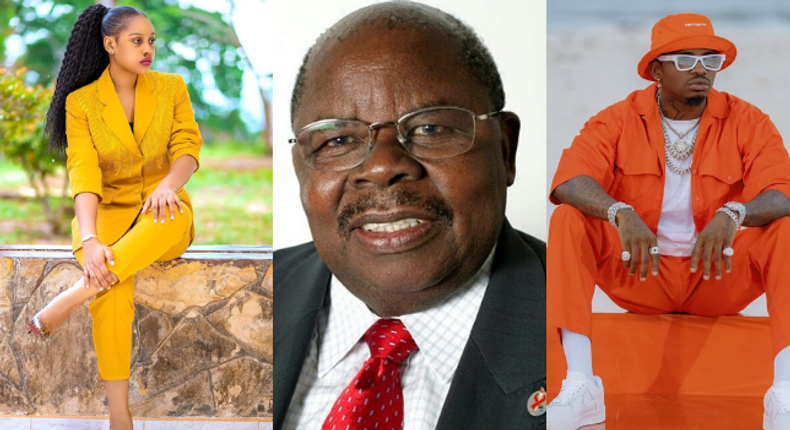 In a post seen by Pulse Live, Platnumz led others in paying tribute to the late Mkapa, with many praising him for his good leadership skills when he was the Head of State. Mkapa was Tanzania's president from 1995-2005.
Mkapa's death was made public by President John Pombe Magufuli, in a televised address, declaring 7 days of state mourning.
According to Magufuli, the former Tanzanian President died at a hospital in Dar es Salaam where he was undergoing treatment.
Here are celebrities Mourning Mkapa
"May His soul Rest in Paradise 🙏🏼"
"Nimepokea taarifa za kifo cha Mzee wetu Rais wa Awamu ya Tatu Ndg. Benjamin William Mkapa kwa masikitiko makubwa sana. Salamu zangu za pole ziende kwa Watanzania wote. Mzee Mkapa alikuwa ni Baba, Mwalimu, Mlezi na wengi tulimtazama kama kioo. Binafsi nimejifunza mengi kupitia uongozi wake na maisha yake kwa ujumla. Tunashukuru kwa kutuacha na kitabu cha maisha yako kitakachobaki kama kumbukumbu na sehemu ya sisi kujifunza na vizazi vijavyo. Pumzika kwa amani Mzee wetu. 🇹🇿"
"INNA LILLAH WA INNA ILAYH RAJIUN 🤲"
"Innalillah Wainna ilaih Raajuun"
"Mungu Yuko na Baraka Zake Siku zote Tanzania 🇹🇿 Ya leo hatuwezi zungumzia Bila Chembe ya mazuri yako Mze mkapa Ulale Salama Mkono wa bwana Ukuponye Amina R.I.P"
"😭😭 Mwenyezi Mungu ailaze mahali pema peponi roho yako dady"
"INNA LILLAHI WA INNA ILAIHI RAJI'UN"
"Aaaaaaa!!! Lala salama Baba!🙏"
"R.I.P MZEE WETU BENJAMIN MKAPA MUNGU AILAZE ROHO YAKE MAHALA PEMA PEPONI AMEEEN 🙏🙏🙏🙏😭😭"
"Daima wewe ni shujaa kwangu Taiifa litakumbuka mazuri yako Leo na kesho. Ulikuwa baba ulikuwa rafiki Daima lala".
"Nimepokea taarifa za msiba wa Mzee Benjamin William Mkapa (Rais wa Tanzania 1995 - 2005) kwa masikitiko makubwa sana. Natuma salamu zangu za pole kwa familia, ndugu, jamaa, marafiki na watanzania wenzangu wote. Pumzika kwa amani baba yetu!"
"Mungu ailaze roho y marehmu mahal pema peponi…amin. Pumzika Benjamin"
"Rest in Peace Mr President (Benjamin William Mkapa 3rd President Of Tanzania 1995-2005)"
"Pumzika kwa Aman mzee wetu"
"REST IN PEACE OUR FORMER PRESIDENT OF TANZANIA. BENJAMIN WILLIAM MKAPA"
"Rest In Peace Mzee wetu, hili ni pigo kubwa kwa Taifa 😭"
"R.I.P Mzee Benjamin William Mkapa 🇹🇿"
"Rest in Peace Baba...Rest in peace Ben..Najisikia vibaya"
"Nimehemewa,,,Poleni Watanzania wenzangu 😭😭😭😭😭😭😭"
"Hakika M/Mungu ndiye Mwenye kujua muda, siku na Saa, ... leo muda umefika kwake kwa aliyekuwa Rais wa awamu ya Tatu MH!!! BENJAMIN WILLIAM MKAPA"
M/Mungu ametekeleza wajibu wake, na wajibu Huu ni lazima kwa kila Binadamu ili Neno litimie, Kiongozi wetu muda wake umefika amelejea na sisi Sote Muda Ukifika Tutalejea, ..Nafasi Pekee tulibakiza Kwa Mungu Katika Dunia Hii Ni Ibada Tu. Hayo Mengine ni Mapito. Mungu ailaze roho ya Marehemu Pale Panapostahili Aminaaa 🤲😭😭"
"💔💔💔💔💔💔 May Your Soul Rest In Eternal Peace Mzee Wetu 🙏🏿🙏🏿"
JOIN OUR PULSE COMMUNITY!
Recommended articles
Benzema survives nasty road accident [Photos]
Singer Dela and Dr hubby announce they are expecting their first child [Photos]
Rev Lucy Natasha engaged to bae she's been seeing for 1 year [Photos]
Rick Ross posts teaser about Hamisa Mobetto's birthday after saucy Dubai trip [SCREENSHOT]
Rick Ross and Hamisa Mobetto video, Vera Sidika steps out looking snatched month after giving birth & other stories on #PulseUhondoMtaani
Kanye West shares photo kissing Kim Kardashian after admitting he wants her back
'I never said donate money to me' - Davido clears air on largess received from fans during CNN interview
Rema goes on a Twitter rant, after DJ Neptune presumably releases his song without his consent
Rick Ross & Hamisa Mobetto's Dubai vacation makes headlines in US [Video]