Singer attacked after landing in Kenya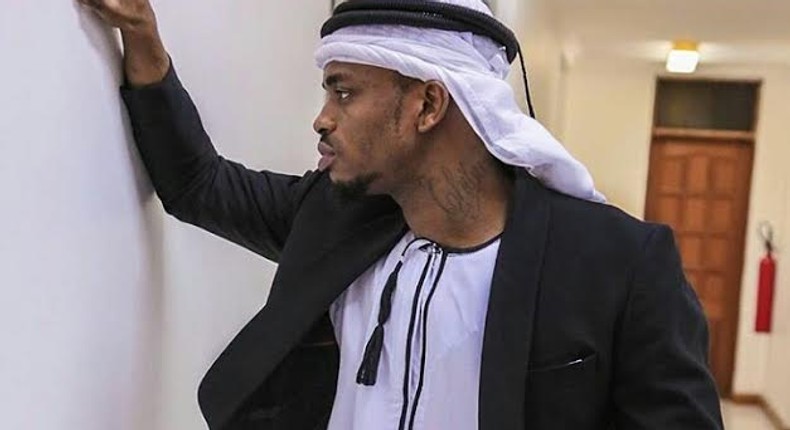 They say damned if you do, damned if you dont and Diamond is damned either way.
Since Ivan fell sick, singer Diamond has been on the receiving end of attacks from critics.
There are those who criticised him for not showing support for Ivan on social media but he explained that he knew if he talked about Ivan he would be attacked for seeking publicity.
Speaking to Clouds FM, Diamond expressed his fears by saying "The situation with Ivan is very serious and one cannot post for fear of people thinking that you want to get some publicity over someone's sickness. In fact I cautioned Zari against posting photos of her visiting a sick Ivan on the internet. 'Don't let it go to the internet ' I told her so that people may not think that you are doing it for fame instead of the goodness of your heart."
Now his worst fears have come true as people have really gone in on him for not supporting Zari publicly on social media, while in fact we are not privy to the details away from social media. He was savagely attacked today after landing in Kenya by the people who felt that he should have cancelled his concert with Koroga festival and gone to comfort his wife.
This was after tweeting this out and sharing on Instagram:
charlita_oI: could be very wrong but one would think after your family (ur step kids) have suffered such a heavy heart wrenching blow you would cancel your appointments and be there for support!! But like I said I could be very wrong!!
Mrkaseeb:Ina maana kutafuta pesa ndio muhimu kuliko msiba?
fmashauri66:Kwanini huendi Kampala kuhani msiba? Hizo pesa zipo tu utazikuta
molyzkidIla: unaroho mbaya hata Kama Ivan hakuhusu ila kuonesha tu heshima kwa wale watoto aliozaa na Malaya wako bhas ungetulia mazishi yapite ndo uendelee na harakat za Maisha
But there are those people who were on his side who wrote:
yes_iam_a_beautful__amarache: Mama nillan zari zebosslady, ata take care kila kitu, yule mwanamke nistroung, let her be she will handle it all, nyie kaeni hapo muone kama mambo hayajawa fresh soon namuaminia yule dada. Walichokifanya yeye na dai nikazaa watoto tu mengine mwachieni yeye mwenyewe ata solve yeye mwenyewe.!
Recommended articles
Redsan, Wyre & 9 other Kenyan artists who have lit up the reggae music scene
Alikiba's ex tells all on their short-lived relationship & breakup
Nakili Sessions: Njoki Karu's soulful serenade wows Nairobi's music lovers
Kenyan mum prays as party-loving daughter breaks norm by coming home early [Watch]
Michelle Ntalami unpacks lawsuit against Minne Kariuki, MNET TV and D&R Studios
Andrew Kibe's return won't affect Kamene Goro's stance on their reconciliation
Clever bribe that shielded Aslay from teacher's wrath after missing school for a concert
Larry Madowo shares surprise encounter with KDF soldiers at Mt Kenya peak [Video]
Content creator Purplesam appeals for help after violent robbery by fake KWS officers