Ditch the church and everything that comes with it- Muthoni Drummer Queen to Willy Paul
Willy Pozee listen to the queen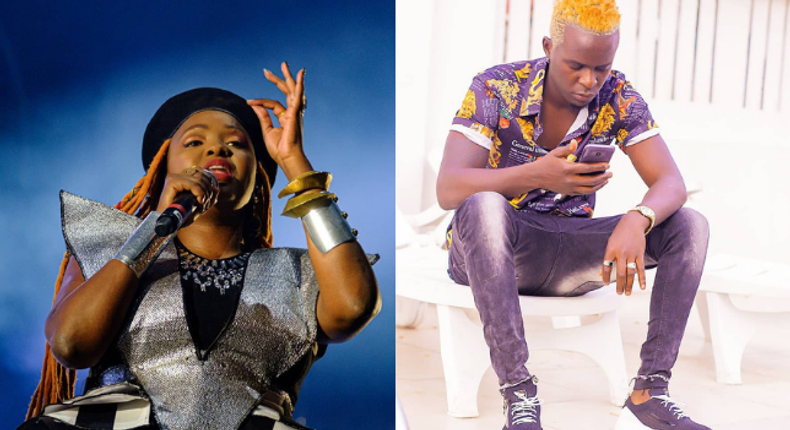 In a detailed twitter thread, Muthoni pointed out that a good number of artistes are just hiding under the Gospel umbrella in order to accepted in the society, but in real sense their deeds don't match that of a true Christian who abide by the scriptures.
In her message to Willy Paul, MDQ noted that the Kenyan Gospel Industry is not about Jesus but is about moving masses of bodies.
"Ditch the church crowd&everything that comes with it. This 'bad boy' image, make it your reality. Curse on tracks. Get 100 tattoos. Do whatever & exactly what you want to do. Just write us real stories. Work with excellent producers. Shape your own sound. Own your own narrative" shared MDQ
She went on to advise Pozee to stop hiding under the gospel umbrella, and focus on what he feel is good for his career. She said that the Saldido President has potential to conquer the 'secular' industry and he should not be afraid of being himself.
MDQ's advice to Willy Paul
Pulse Live Kenya
"We've got to break the smallness and the silence. The children need to see&feel&know their flyness without BS. Fake boring/whack/untalented artists (an actual oxymoron) Fuck fake gospel. Yes to more freedom, creativity, expression, access and authentic vibes. Yes to artistry"
"Corporate KE is very tied to bottom line ie numbers. The more bodies you can move the bigger the son the higher the ranking as artist the more likely you can get that corporate cheque. So now you know why the lineups to those corporate sponsored gigs look like they do"
Pulse Live Kenya
"And most importantly yes to the new, real Willy Paul. Drop the gimmicks bro. Build your new path for real. You've got what it takes. I pray 200 more fake gospel artists vuka the sakafu and join Willy in being their whole, authentic, creative selves. We need that."
"So many dope producers/entertainers stuck in 'gospel' bcos it's the access to KE market. What if we as fans just said fuck fake gospel. If the music doesn't induce worship in spirit & truth, it isn't gospel & doesn't need to pretend to be. It's just it's own fly wave & that's ok"
This comes days after Willy's new song Lamba Nyonyo was accorded a hostile reception.
Pulse Live Kenya
Pulse Live Kenya
Get our Top Stories delivered to your inbox
Recommended articles
Youthful MP Peter Salasya searching for a wife with these qualities
Ed Sheeran may have to pay $100m, if found guilty of plagiarising a song
Size 8 casts out demons from possessed girl in Kibwezi [Video]
Bahati is battling depression, Diana has called me twice-Ringtone
Jamal Rohosafi throws shade at ex-wife Amira with cryptic message
My twin - Diamond gushes over look-alike son[Photo]
Crossing boundaries! Diamond working on a song with Indian star [Details]
Nick Cannon welcomes his 10th child, weeks before his 11th is due
Abel Mutua 'fried' as Roast House closes curtains for Season 1