Furious Fena Gitu lashes out unprintable insults after attack over her sexuality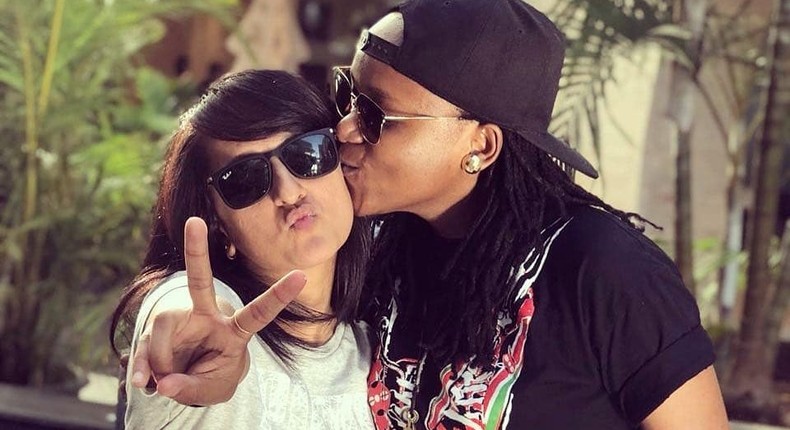 The Kaende hit maker seems tired of Netizens who are always flocking her Instagram page questioning her sexual orientation whenever she posts a photo with another lady.
On Wednesday, Fena Gitu took to social media to wish her friend Niyati Patel a happy birthday sharing a series of photos together but haters could not let her prosper in peace.
Infuriated Fena Gitu
An infuriated Fena Gitu was forced to tackle everyone who tried to bring her down, unleashing unprintable insults on them.
This is not the first time Fena is being accused of being a Lesbian. In August last year, Ms Gitu stated that her sexuality is none of anybody's business.
"Why are people concerned? It doesn't concern them. Why are they bothered? Shida yao ni," said Fena Gitu.
Fena Gitu's rant is coming at a time former Tahidi High actress and BBC Producer Makena Njeri has been accused of cheating on her girlfriend with one Michelle Ntalami.
Pulse Live Kenya
Pulse Live Kenya
Pulse Live Kenya
Pulse Live Kenya
Viral Photos
The aggrieved party spray painted the word 'Makena Cheater' and 'Fuck you' across a Mercedes Benz believed to be owned by Makena.
In February, Fena Gitu ranted online when a photo of her and former KTN presenter Edith Kimani, perceived to be very suggestive was widely circulated.
"Find yourself someone who looks at you like I look at Edith Kimani?? This is what 10 years of friendship looks like? Thank you for loving me. I love you! TROUBLE 2018?" she had captioned the photo.
Pulse Live Kenya
Threesome scandal
In October 2018, she was again accused of being in a threesome scandal with This is Ess and Patricia Kihoro. However they quashed the allegations. Ms Kihoro said she was shocked when she heard the news that she had a "girly thing" with This Is Ess and Fena Gitu.
"I am not even bothered by the story, I read it and I was like wow! If someone is trying to make up stories to bring someone down at least make it credible. The story is not true, some of things that were talked about like trying out lesbianism to be cool, who will want to do that in a country that is homophobic? At first, we laughed until we realized there are people who actually believe it" responded Patricia Kihoro.
Recommended articles
Daddy Owen drops 1st music video after 1-year hiatus [Watch]
Amber Ray excites fans with video of growing baby bump
Shaffie Weru makes media come back with new show [Video]
Actress Jacky Vike lands brand ambassadorial job
Kevin Mboya reveals details of Kwale trip that left him heartbroken
Photo of Wema Sepetu & bae Whozu sparks debates after fans noticed slight bulge
Emma Jalamo drops collabo with Nicah the Queen after week-long stunts [Watch]
NTV's Zainab Ismail pays touching tribute to late father on 1st anniversary
Not my husband - Chiki Kuruka shoves lady grinding on Bien [Video]