Former K24 News anchor lands new job months after being fired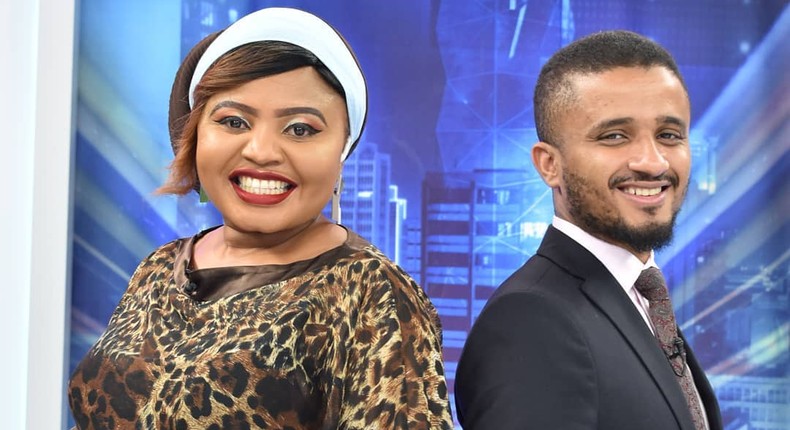 Former K24 news anchor Ahmed Juma Bhalo has landed a new job months after being shown the door at Mediamax owned station K24.
An excited Bhalo put up a post informing his Insta-family that he started the new month with a new job, ready to challenge himself.
"Hapa kazi tu. Mwaka mpya, mwezi mpya, kazi mpya, mambo mapya. Walinifungia mlango, Mungu amenifungulia geti. Walinipokonya moja, Mungu amenipa kumi na moja. Ready for the new challenge that awaits me. #anchor001 #aviationkenya #aviationke" shared Ahmed Bhalo.
Reports indicate that Bhalo has joined Aviation industry on a managerial role.
Engaging with his former colleague Karen knaust, Bhalo said "@k_knaust karibu kwa aviation industry 😊😊😊German Machine Shukran".
BBC's Zawadi Mudibo also reached out to congratulate his former Colleague during his time at K24 saying "Heko kaka. 🙏🏿 "
The House of Bhalo CEO replied "@officialzawadimudibo Achiiiiivu Shukran sana. Uwache kuniulizia mambo ya wasanii sasa badala yake uniulize kuhusu wataalumu wa aviation😂😂😂".
Pulse Live Kenya
samlisafi "Ndugu yangu anchor 001 inshallah utarud kwa media hata iwe miaka kadhaa baadae . Fani inakupendeza japo changamoto nyingi"
kochajonnes "Aisee hapo safi walikupokonya moja mungu amekupa kumi na moja that awesome brother. Kakangu mungu ni wetu sote 🙏 #anchor001"
ronnyreagan5 "Sema kama si Mungu kuwa upande wetu adui zetu sisi wangetumaliza tungali hai"
onyiphil "Congrats bro, may God continue blessing you"
bibianah_mike "Congratulations. When the door is closed, God opens a gate... All the best"
Pulse Live Kenya
In October 2019, Bhalo penned down a farewell message to his K24 viewers, after the station retrenched a good number of its employees, in the quest to cut down costs.
"Hakuna kilichokua na mwanzo kikakosa mwisho. Tarehe 30/10/2019 ilikua siku yangu ya mwisho ya safari yangu kama mwanahabari wa @k24tv kufuatia mabadiliko yanayopania 'kuboresha' kampuni hiyo. Shukran kwenu nyote muliofanikisha safari yangu ya miaka 4 katika kituo hicho. Allah akipenda tutaonana kwingine. Daima alipangalo Mungu hakuna wa kulipangua. #Anchor001 @houseofbhalo," said Ahmed Bhalo.
Mediamax issued a redundancy notice on 30th September 2019, sending home more than a 100 employees.
Recommended articles
Melody Sinzore opens up on rejecting offers to leave Radio Citizen
Nadia vs Arrow Bwoy: Fans debate over who their son resembles more [Photos]
Akothee confirms wedding, 12 years after divorce
Former Kiss 100 presenter Linda Nyangweso comes out as queer
Anne Kansiime 'teases' MTN Uganda CEO: Watch their amazing conversation
Court orders influencer to pay Nonini Sh1M over Instagram post
Eric Omondi's act of kindness towards riders goes viral [Video]
Anerlisa Muigai shares 7-month celibacy journey
WATCH: Lady Bee interrupts video shoot to preach to curious onlookers