Here Is the Kenyan College Student who killed and ate His own 3- Year old Cousin
His name is Marjanein Ndere Indahaso , a selfie-obsessed, genial-looking young lad who, at first glance, appears totally innocent and easy to relate with until you learn of the despicable horrors he's being accused of committing.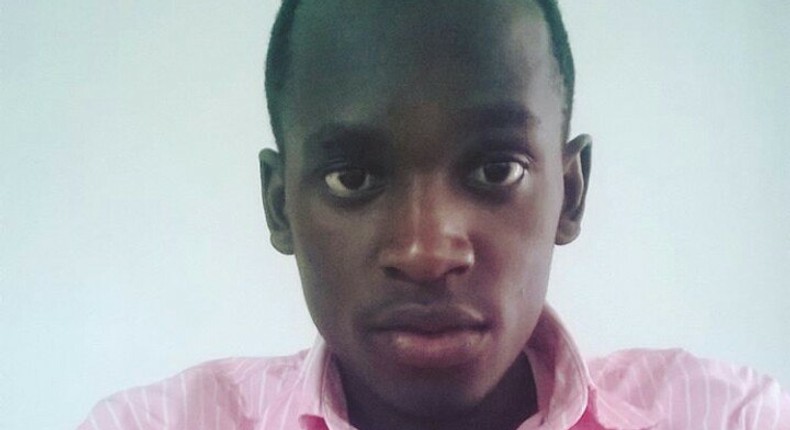 You've probably seen his face Trending across the Internet for the last few days or so.
Contrary to the come-hither countenance that his Instagram page projects, Abubakar, as he's also known as on Facebook, is not the happy-go-lucky college kid you might mistakenly think he is.
Indahaso is a killer. And not just a killer caught in a sudden maddening rage. But a calculating ghoul who planned the premeditated death of his little cousin- and then ate her up.
In October 19, 2016 at 2am in High View Estate Phase 11 in Ngumo, it's being alleged that the 3-rd year student at Strathmore University crept into his auntie's bedroom, woke her up, knocked her out and stabbed her severally with a knife and then snatched her two-year old daughter (his niece), grabbed her and left the room with her.
Marjanein Ndere Indahaso with his victim Photo/Courtesy
After ensuring that he'd locked up the little girl's mother in her room, the man is said to have proceeded to bust open his little niece's head, cracking her skull, eating her brains and slurping up her dripping blood. Like a vampire.
In what is described like a scene straight out of a Quentin Tarantino flick, Idahaso drank up his own cousin's blood as she lay helpless, mangled and decapitated. Her mother screaming her lungs out from the other room.
This shocking act has thrown his family into disarray and caught his friends and associates in utter disbelief.
Marjanein Ndere Indahaso and the young girl Photo/ Instagram
Idahaso, who goes by the moniker Marjan Andele Idahaso on Instagram, appears to have loved life and social moments as 90% of his photos are of him and his pals either in school or in some outdoor activities
Also,he calls the niece he butchered and ate up his in one of his morbid Instagram photos.
Under several of his photos, his shocked - and enraged - followers have left many angry comments insulting him, questioning his motives, expressing their disbelief and shock.
As we speak, sources tell us that the Strathmore University student is currently being held at the Milimani Police station.
Ghafla contacted Strathmore University who told us that they've not heard of any such incident involving their student and asked us to email to their communication team.
Our email has still not yet been replied to.
But in a statement published by , the University reacted as thus,
"The suspect in the incident is a student and from our records has been attending classes in our University. As of now, the University does not have any further facts since the matter is under police investigation. The community is deeply saddened and shocked by this incident and condoles with the family, "
The suspect remains in Police custody.
Below are some of the Instagram reactions from his friends and followers.
JOIN OUR PULSE COMMUNITY!
Recommended articles
Frida Ongili on why she has never given up on hubby Babu Owino
Munira Hassan, woman at the center of Ndichu twins scandal breaks her silence
I want to look like Beyonce - reveals Diva the Bawse
CCTV footage shows moment Ndichu vs Murgor sisters fight started [Full Video]
Mauzo hires Limousine to pick Vera and daughter from Hospital [Video]
Shatta Wale and Medikal go for 'sea bath ritual' after release from prison (WATCH)
Vera gushes over hubby Mauzo as she remembers her past relationships
Diana Marua in jubilation as she celebrates new milestone [Photo]
Is the world ready for another album from Octopizzo? [Pulse Contributor's Opinion]