Konshens' wife issues statement on their troubled marriage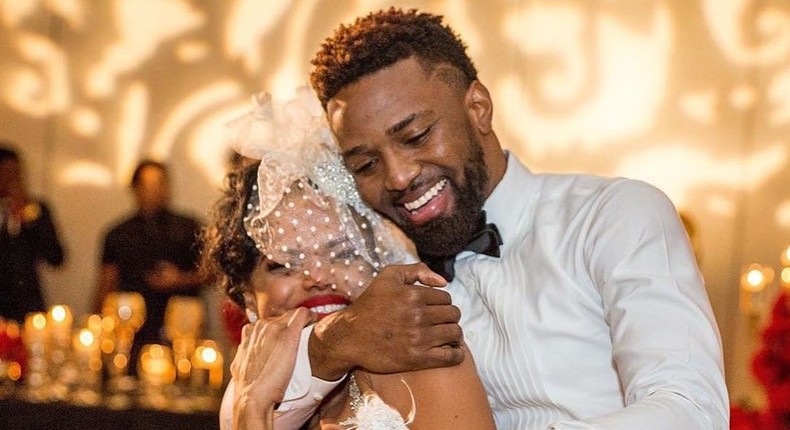 Jamaican singer Konshens' wife Latoya Wright popularly known as Latts has issued a statement on their troubled Marriage.
In posts shared on her insta-stories, Latts admitted that they do not have a perfect marriage and they have their ups and downs.
She went on to say that they make mistakes and learn from them just like everybody else, as she refuted claims that that they were parting ways.
"Thanks for the hundreds of DM messages but one question… who told y'all I'm leaving my HUSBAND!? We aint no pretenders, we are humans… we have our vulnerable moments and situations, we don't paint it like we're perfect, never have… we don't ask to be nobody's couple goals cuz, we both made and making mistakes and learning and getting better at this thing called LIFE. So y'all perfect men and women kudos to you," read one of the posts.
The mother of one stated that her focus is currently on her family and husband, and making sure he gets back to normal.
She also cautioned those who have been criticizing her family to hold their horses because they (Latts and Konshens) do not care what they think.
Pulse Live Kenya
"He has a strong woman by his side and he will be nursed back to the strong MAN that he is and I will ensure of this. My FAMILY including my HUSBAND is my #1 priority right now. And if you have a negative opinion bout dat plz take it elsewhere cuz Greg and I care ZERO… as we ALWAYS have. So your public judgement and criticism… lolol child plz, we too militant for that shit so don't waste your time. Have your opinion if you wish but if u not sending prayers and blessings and positivity our way plz gwaan over tropics and dear dream with it. YOU follow us we don't follow you!" added Latts.
Her words come a few days after Konshens in a long post on Instagram insinuated that they had parted ways.
He went on to apologize to her for putting up with every bad thing he threw her way, noting that he was going to have himself fixed, and did not want anyone.
Pulse Live Kenya
Konshens added that he wished her happiness wherever she goes and that he will always be a call away if she needed him.
"You will wake up and grow up when she already gone. All she did was - Bring me the greatest happiness only rivaled by mi kids births. - stick by me no matter what and who going against me
- Stop me from kill miself COUNTLESS times after mi bredda drop out an mi get fucking unstable. And counsel me when the world a come down pan mi.
- Put up with Countless fuckery and handle it all with class and maintain respect and protect me image. - Love mi daughter like she is yours and grow her into a Lady.
- Transform my mindset financially and show me seh the way i was handling money all those years was totally wrong. - Match me perfectly spiritually and physically.
- Partner with me in business and LIFE AND ME STILL FIND SO MANY WAYS FI MEK THIS FUCK UP. This is what happen when a likkle Jack get a QUEEN.
Pulse Live Kenya
This is a message to all men, step outa uself an look pan u life, look wat really important and dont mek Jah tek back him blessing. Mi no wah no sympathy, and yes i had to post this because a yasso mi vent mi have few frenz but none a mi fren dem nah go say "big pussy yuh nuh see seh yuh a fuck up yuh life". Jus like how we nuh grow fi talk bout feelings an me did affi lose mi bredda fi know seh man have feelings, same suh we grow as womanizer and big likkle bwoy weh feel like money inna pocket is all,and think SELF SELF SELF and try mek up fi it by being great in other areas, anno suh it work. Yah go lose an lose BIG. Thank you very much @__latts__ best years of my life. Sorry me fuck it up. Mi aggo fix miself as a person and fix mi head to. And no matter where you go in life im going to be a call away watching and hoping you find real happiness wid sum1 deserving but i will be ready and waiting if u ever call. To all ladies i am NOT available and i dont want Nobody at all. Mi nah go depress unnu timeline mi jus a say dis publicly so everybody know wah kinda clown unnu deh yah a support an suh any man weh a clown demself can wise the fuck up now. Me aggo focus pan mi music an mi carreer, drop mi song dem an do mi work an go hard, focus pan mi kids and mi mental health and growth as a man an loww out bwoy life."
JOIN OUR PULSE COMMUNITY!
Recommended articles
Why do guys still masturbate when they have girlfriends?
I spent Sh800K - Vera speaks on begging for money to fund lavish Baby shower
Shika Simu yangu bro, we need you - Eric Omondi begs Eddie Butita
Cooking for Drake, collaboration with Wizkid and other things Tems revealed in a Twitter Q&A
British MP claims she didn't know her flat was owned by the Kenyatta family
Mulamwah and girlfriend Sonie welcome a bouncing Baby Girl (Photo)
Diamond Platnumz splashes Sh5.2 Million on new Gold & Diamonds Chain [Video]
Alikiba's Wife Amina reveals name of their 2nd born son for the first time
Mutua explains calling Lilian "Honey" in public even after divorce [Video]