Swizz Beatz is the executive producer of my album - Diamond Platnumz reveals
Swizz Beatz has worked with the likes of; Jay Z, Rick Ross, Lil Wayne, Beyoncé & Kanye West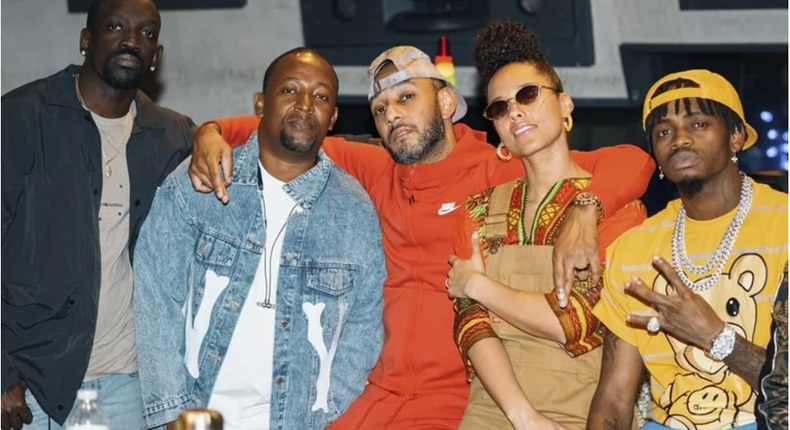 Tanzanian singer Diamond Platnumz has named legendary American music producer Swizz Beatz as the executive producer for his upcoming album.
"I wanna thank Swizz Beatz so much because he really pushes and supports a lot of African music in the US. Swizz Beatz is big and for him to decide to push African music is something to be proud of. He loves us and I respect him so much and most of the time when I go to the US I'm with him; giving me a lot of counselling and guidance and how to navigate the US Market.
"He is the executive producer for my upcoming album and I can't wait for you to see what is coming. When you have Swizz Beatz on your album, you know it's serious and I really want to thank him because definitely he has lot of things to do but he accepted to work with me. It's a privilege. Salute my brother," Diamond said.
Singer Diamond Platnumz and Swizz Beatz during his past tour to the US
In September 2020, Swizz Beatz of the famous Ruff Ryders' produced track number four 'Wasted Energy' on his wife Alicia Keys's Album ALICIA where she had featured Diamond Platnumz.
Diamond was the only artiste from Africa featured in the Album and he sang in Swahili.
Alicia Keys talks about her experience working with Diamond
Alicia described the WCB President as an amazing artiste with a unique style, following the success of their collabo dubbed Wasted Energy.
Diamond, Babu Tale, Swizz Beatz and Alicia Keys. Pulse Live Kenya
"Wasted Energy is such a vibe…. I also love that Diamond Platnumz is part of this. An amazing Tanzanian artiste, who happened to be able to come in and bless this track with his unique style and I love how the worlds collide here. This is like world music collision at its finest" said Alicia Keys.
Burna Boy goes after Diddy as Twice as Tall Executive Producer
In August 2020, Grammy award winner Burna Boy also settled on American rapper and entrepreneur Diddy as the executive producer of his firth studio album 'Twice as Tall'.
In the 15-track album Burna had featured the following; Naughty By Nature, Stormzy, Chris Martin, Sauti Sol and Youssou N'Dour.
Recommended articles
YY Comedian's mum shares untold story of how he suffered burns 7 times
Diamond pleads with Chege to release songs after unexpected reunion on stage
Mercy Masika expresses concern about modern pastors' fashion & modesty
Philosophy Fena Gitu applies in bold fashion choices
Nyako to take legal action against Brian Chira for defamation
It starts afresh every week! Georgina Njenga's response to body count question
Director Trevor & Eve Mungai announce baby plans, key dates revealed
Ndovu Kuu comes clean about relationship with TV presenter Claudia Naisabwa
10 Kenyan celebrities who've joined the singles club in 2023