Brace Yourselves! Cos The October Fest Is Back In Town!
This is the one fest where you don't get judged for your - responsible - binging and the one festival where nothing is complete until jugs of properly-brewed beer and whiskeys have been downed.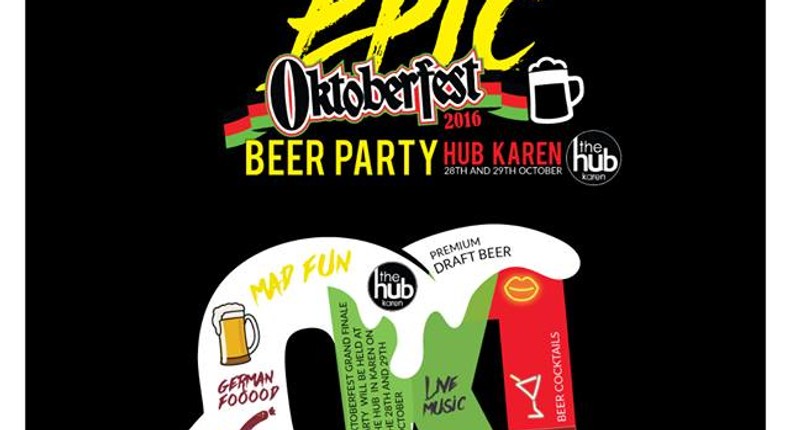 You've all heard of the International beer marathon otherwise known as the
This is the one annual festival where thousands - sometimes millions - of beer and food lovers throng some venue to indulge mercilessly and endlessly in one huge routine of nothing but unbridled fun and ecstatic thrill.
We all love beer. Dammit.
And as we all know, the best tastes of beer don't go down unless accompanied by some wild music, crazy girls, booming sounds, fantastic company and of course, scrumptious foods. Which is exactly what October Fest is pretty much all about - unhinged hedonism.
After a little two-year lull,the wildly-popular October Fest, itself a German tradition that has now been spread out across the entire universe, is proudly back in town.
Add some musical bands into the mix - and some pretty girls - and you've got your whole weekend very covered. Really.
That's exactly what the Big Five Breweries,who are actually the brains behind the legendary Brew Bistro Lounge and the enchanting Wine Shop are all about
According to a top source at the Big Five Breweries,the 2016 Octoberfest promises something that's a little out of this world and a little out of this town.
"It's as epic as epic can be. I mean, we have over ten different types of brews on tap including Temstout, Simpils, Kifaboack and the much-loved Karamell. There also will be beer cocktails and beer games including beer chugging and beer pong. Also, brace yourself Octoberfesters because we shall be also offering something so delicious you'll probably lose your minds - a beer and cheese combination! ", she says.
Also, on top of all of the amazing stuff that are lined up for revelers, on hand also will be an array of some of the illest and most electrifying performers kicking it on stage and driving the attendees wild.
Bands like Simply Tona as well as the Beethogs will be tearing up the guitars and booming up the drums as revelers continue chatting the night away with drink after drink after drink.
Jugs of some of the finest Brew Bistro beer Photo/Brew Bistro
To make an already fantastic event even more amazing, Jameson will on hand to provide an unforgettable Jameson Whisky and beer tasting experience.
Wine lovers will be amply covered as well as the Wine Shop will be on call for the entire festival to ensure that the beautiful lovers of the sweet, crushed grapes don't go unattended to.
This whole amazement will be happening this weekend starting on Friday the 28th to Saturday the 29th at the Hub, Karen.
Beers are incredibly affordable. And don't even get me started on the delectable foods which shall be allover the place courtesy of Picasso, Art Caffè and the Ocean Basket.
Me lunching and drinking at the Wine Shop this afternoon. Amazing food! Fantastic beer!  Photo/ Ghafla
Grab your tickets on www.kenyabuzz.com and make sure you follow the Ghafla social media pages for a lot of ticket giveaways and fun trivia running till saturday.
PS: I've just tasted the beer porched hotdog and the Karamell beer this afternoon. I kid you not, it's stuff to die for.
Can't wait to attend the gig and watch my life get lost in ecstasy and drunken bliss.
Recommended articles
Kelvin Kinuthia reveals contents of private chats with Jimal Roho Safi
Nonini gives update on case against influencer Brian Mutinda
10 songs that cemented Daddy Owen's legacy as a gospel superstar
Eve Mungai's promise to boyfriend Director Trevor on 5th anniversary
Harmonize makes unexpected statement about Diamond during Rwanda visit
Newlyweds Steve Ogolla and Cebbie Koks celebrate new accomplishment
Akothee shares how her dowry negotiations went down [Video]
The top 10 Sheng words used on Google Search and their meanings
John Allan Namu partners with KTN to expose electricity cartels [Video]