I used to carry Akala sandals and sniff them secretly- Awinja
The Papa Shirandula actress has opened up about her strange pregnancy addiction...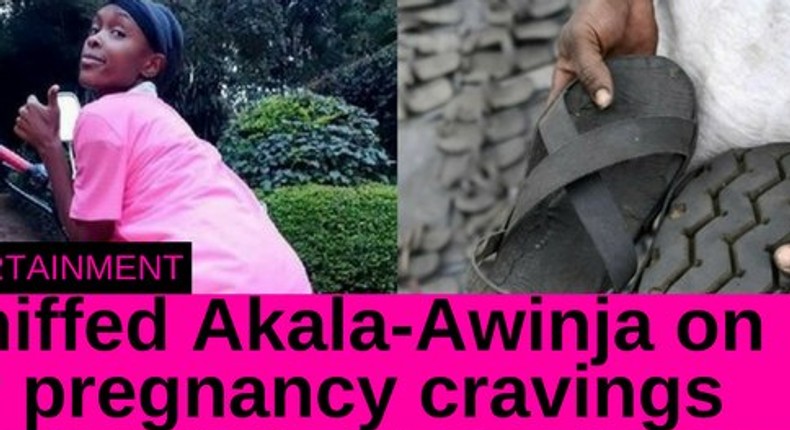 Every woman has those things that she craves during pregnancy and those that she abhors.
For some, roasted clay becomes a delicacy while others develop a sudden and intense hatred for foods which were their favorites like meat, milk and spicy foods. Others cannot stand the smell of onions while others gravitate towards strange smells. Some women have confessed to craving the smell of bleach, petrol, liquid detergent and other household cleaning products.
For others, the urge for the smell is so intense that get a huge whiff of it every chance they get and the urge can get so crazy that some women actually carry their pregnancy addictions in their bags. Such as Awinja who confessed to carrying Akala Sandals in her bag and sniffed them when no one was looking. For those who do not know what Akalas are they are durable sandals made from discarded rubber car tires.
Taking to social media, Awinja made this confession "I remember when I was Pregnant I was Addicted to 2 things, Dr Kingori's show the #wickededition Na Harufu ya Tyre ya gari, ata i used to carry Akala Sandals Nazinusia chini ya maji all the time..."
Ladies did you have a strange pregnancy addiction? If you had, share your experience in the comment section below.
Recommended articles
Spotify releases most streamed Kenyan artistes & songs of 2022
Tems addresses trolls criticising her Dazed magazine's photoshoot
Actor Sandra Dacha commemorates parents' demise in a sombre message
Nigeria dominates Apple Music 2022 Top 100 Sub-Saharan songs
Diana & Bahati blasted for sidelining Mueni in birthday celebrations
Sh25M monthly payments & other details of Kanye and Kim's divorce settlement
Bahati pens heartfelt message to daughter Mueni as she turns 7
Kambua reveals face of her newborn, confirms she gave birth months ago
Why Karen residents want Betty Kyallo's restaurant shut down