Prezzo's sex drives me crazy - Amber Lulu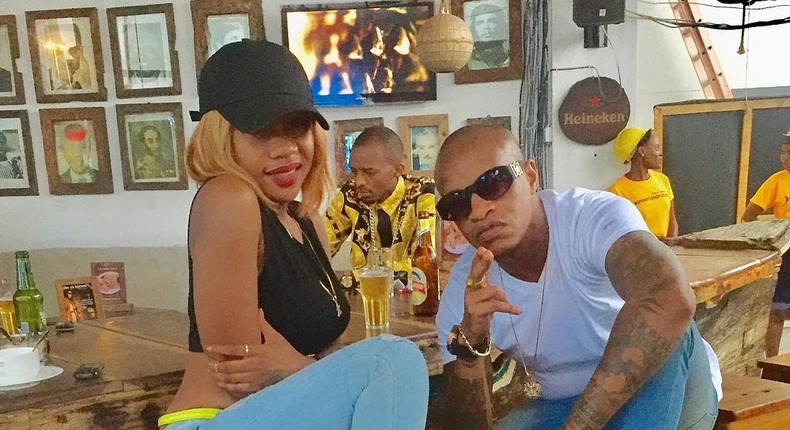 Tanzanian video vixen cum musician Amber Lulu is very much in love with Kenya's 'King of Bling', Prezzo.
She has even disclosed that there are plans of getting hitched to the Kenyan rapper since they are very much in love.
When asked what about the rapper drives her crazy, Amber said 'sex' without batting an eyelid. She then went on to reveal that what she has with Prezzo is a special connection that surpasses all his other relationships.
"You can be with Prezzo, roll with him but you can never be the best more than me. Love is a connection, I understand him and he understands me. I'm not trying to taunt anyone, anyone can date Prezzo, but they can never reach the level of relationship Prezzo and I have," she told Dizzim Online.
Amber is not the only one in Prezzo's bevy of beauties that has confessed that Prezzo's skills in the sack are above average. Noti Flow recently shared a photo of Prezzo in her bed and bragged about how good Prezzo is in bed.
She went on to describe Prezzo's pipe as the 'Devil's D' which left her pining for more and left her 'distracted, discombobulated and disoriented'.
ece-auto-gen
4 years ago, Huddah shook up the internet after revealing that the 'Naleta Action' rapper is a best in the sack. This was after he broke up with his Tanzanian celebrity Chagga Barbie
"I'll gladly take him back. Coz he is the best sex I ever had….That's what the Chagga is missing! LOL! No wonder she is angry! KQ I need the next flight to Kenya. I got something urgent that I need to celebrate," read two of her tweets.
She even had the guts to @ Prezzo's ex Chagga. "Hi. I am VERY happy @TanzaniteG that u and @AMB_Prezzo broke up. I missed my beast in bed. I am on the next flight to Kenya. Thanks, dear. Mwaah!"
Recommended articles
Melody Sinzore opens up on rejecting offers to leave Radio Citizen
Nadia vs Arrow Bwoy: Fans debate over who their son resembles more [Photos]
Akothee confirms wedding, 12 years after divorce
Former Kiss presenter Linda Nyangweso comes out as queer
Anne Kansiime 'teases' MTN Uganda CEO: Watch their amazing conversation
Court orders influencer to pay Nonini Sh1M over Instagram post
Eric Omondi's act of kindness towards riders goes viral [Video]
Anerlisa Muigai shares 7-month celibacy journey
WATCH: Lady Bee interrupts video shoot to preach to curious onlookers