Sauti Sol's Bien weighs in on Raila's trip to Dubai for Surgery
Odinga is in Dubai for a minor surgery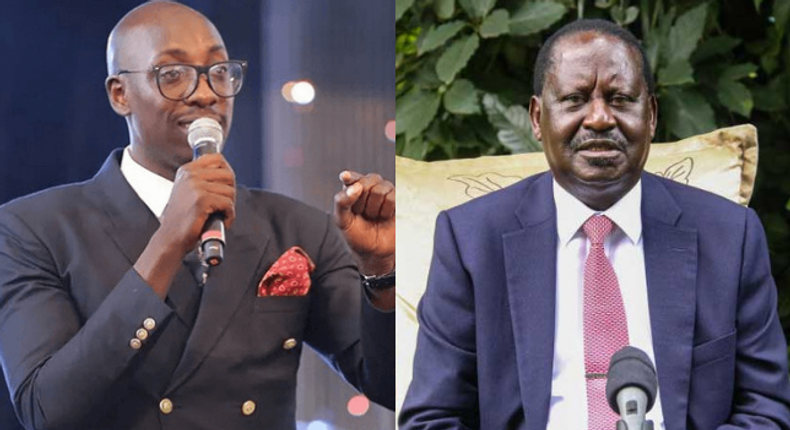 Bein posed a rhetoric question at Kenyans, while comparing the gap that exits between the common Mwananchi and influential leaders who can fly outside the Country for specialized treatment any time.
Sharing the Front page of Daily Nation Newspaper Bien wrote;
"On the blue corner the rich man is in Dubai for surgery. On the red corner mwananchi will have to use local hospitals and morgue when Classism meets police brutality. Whose your money on?" posed Bien Aime.
Odinga in Dubai for Minor Surgery
Bien's statement comes hours after Oburu Odinga who is the spokesman for the Odinga family confirmed that the former Prime Minister had flown to Dubai for a minor surgery.
Another user also echoed Bien's sentiments saying, "esalimba_brian What else should we expect we voted for the wrong leaders and tolerate the impunity so accept whatever happens till 2022"
Pulse Live Kenya
treverakumu "🔥🔥The problem with us is that we always allow them to brainwash us we surely need to change"
dennis_nk "Situation imekuwa chafu kwa ground. Kweli Kenya has two tribes the haves and the have nots😢"
kizazimavazi "Very bold statement but true.. it takes balls to speak your truth freely"
jwagema "This juxtaposition is as real as it is sad and scary. Kenyans need to wake up and wipe out Uhuru and the rest of the scum in Leadership"
However, a section of his followers who commented on the post had contrary opinions, arguing that Odinga has the right to seek medical attention at a hospital of his choice.
shnnackk "@bienaimesol what is wrong with a man going to Dubai for treatment. Am sure if you were also very sick (God forbid) and had the means to go for surgery to another country you would have also done the same..it Is sad that our hospitals here are not the best but you should and that should be blamed on County governments and the national government.Always thank God for good health.Criticize the police brutality and even pray that God will help us"
ritzkotut "But you went to SA to shoot your videos and we have producers here? What's your point? Decry police brutality, poor governance and push for better healthcare, don't always look for a scapegoat for the poor choices Kenyans make at the ballot"
a.l.v.i.n.___ "I hope one day y'all will start blaming your government for your problems, and stop blaming private citizens aka "rich men" for public problems.
The government (aka the president) collects your taxes, not rich men"
JOIN OUR PULSE COMMUNITY!
Recommended articles
Benzema survives nasty road accident [Photos]
Singer Dela and Dr hubby announce they are expecting their first child [Photos]
Rev Lucy Natasha engaged to bae she's been seeing for 1 year [Photos]
Rick Ross posts teaser about Hamisa Mobetto's birthday after saucy Dubai trip [SCREENSHOT]
Rick Ross and Hamisa Mobetto video, Vera Sidika steps out looking snatched month after giving birth & other stories on #PulseUhondoMtaani
Kanye West shares photo kissing Kim Kardashian after admitting he wants her back
'I never said donate money to me' - Davido clears air on largess received from fans during CNN interview
Rema goes on a Twitter rant, after DJ Neptune presumably releases his song without his consent
Rick Ross & Hamisa Mobetto's Dubai vacation makes headlines in US [Video]