Size 8 in trouble after defending DK & Hopekid over threesome sex scandal
DK is accused of infecting the lady with HPV, a Sexually Transmitted Infection.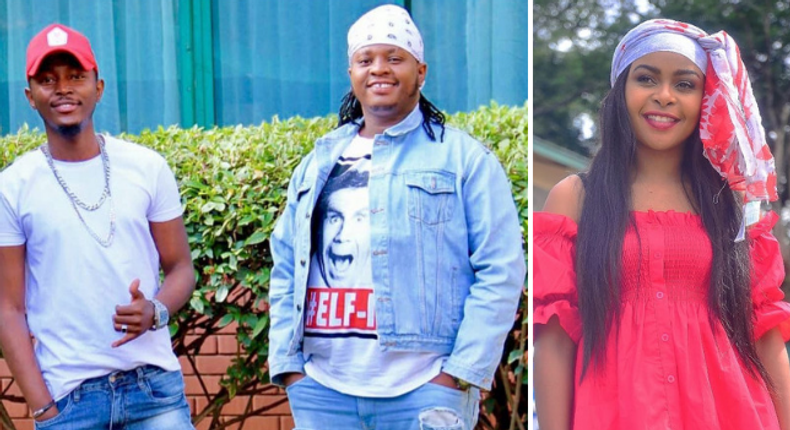 Gospel artistes DK Kwenye Beat and Hopekid were recently exposed for having a threesome with a fan from Nakuru.
The lady said that she had travelled from Nakuru for what she called a 'holy smash' with Hopekid and while they were engaging in coitus, DK joined in. In a separate incident with DK, the young lady contracted HPV a sexually transmitted infection. Some strains of the disease can lead to cancer or genital warts.
In a bid to exonerate themselves, the two gospel artistes have confessed to their sins and asked for forgiveness on social media. While Hopekid took to his Instagram page to apologize, DK Kwenye Beat did an interview with Size 8 where he claimed that he is now a changed man.
After the interview, fans brought the heat to Size 8's doorstep as they felt that she was standing with DK Kwenye Beat and Hopekid and not the lady .
Following the outrage on social media, Size 8 took to her Instagram page and commented that the devil is the greatest enemy in this scenario as he is trying to destroy the lady and the stars.
"People are going through so many things you cannot judge them from just the surface. Love is what people need more than ever. After talking to Dk I also talked to the lady in question after finally getting her contact. She is such a nice lady. And yes for sure she is in great pain I really feel her after our talk she at least felt the love of JESUS CHRIST but she didn't expose the story out of bitterness she was just trying to create awareness to other ladies to be safe and not trust anyone....... Please the people judging her stop it if you don't know someone's past don't judge the present. She is also completely changed working towards her dream of becoming a humanitarian and a counsellor......... My love goes out to her. And I believe she is going to be a great woman very soon. The journey of healing starts with one step. And by God's grace am walking with her for total healing is a process. To Dk Hopekid and the young lady, the devil is the greatest enemy here trying to destroy these three stars with his rubbish ashindwe IN JESUS NAME. To all gospel artist please please where we have sinned let us all repent and go back to God. What is the moral of this whole story if you play with sin it will come back and bit you. Stay away from sin. Let's forget this story and now start a journey of healing deliverance forgiveness and love............To all the ladies out there who are going through a similar situation I love you God loves you I feel your pain but I plead with you all FORGIVENESS is the key to your healing you may not understand what am saying but I pray that God helps you FORGIVE. GOD IS LOVE! MAY THE LORD REBUKE THE DEVIL!" Size 8's post.
Her post put her in more trouble with her fans and she disabled the comment section on the post as she could no longer handle the heat.
JOIN OUR PULSE COMMUNITY!
Recommended articles
Munira Hassan, woman at the center of Ndichu twins scandal breaks her silence
I want to look like Beyonce - reveals Diva the Bawse
CCTV footage shows moment Ndichu vs Murgor sisters fight started [Full Video]
Mauzo hires Limousine to pick Vera and daughter from Hospital [Video]
Shatta Wale and Medikal go for 'sea bath ritual' after release from prison (WATCH)
Vera gushes over hubby Mauzo as she remembers her past relationships
Diana Marua in jubilation as she celebrates new milestone [Photo]
Is the world ready for another album from Octopizzo? [Pulse Contributor's Opinion]
'Now I know why some ladies don't show off their husbands on social media - IG dancer Janemena