My mother is my biggest fan Tik Toker Kelvin Kinuthia reveals
The dress am wearing was bought by mum, she knows my size - Kelvin Kinuthia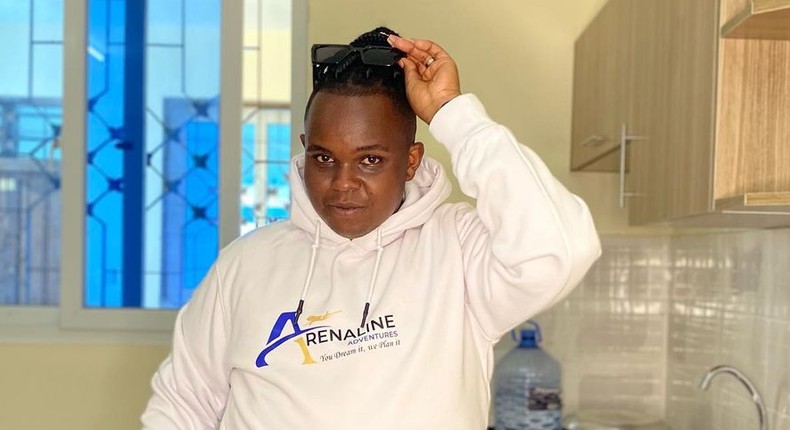 Tit Tok content creator Kelvin Kinuthia has revealed his mother is the number one supporter of his content creation career.
Speaking to Radio Jambo, the content creator revealed his mother was initially worried about his welfare and how he coped around social media trolls, but eventually got used to the social media environment.
Kinuthia, who plays multiple female characters in his content, added that his mother loved the 'Aunty wa Harrier' character and even bought him clothes for the character.
"Initially the hate comments used to trouble her, she used to even call and ask whether I was alright but she eventually got used to it. She is the one that even bought the dress am wearing right now," Kinuthia stated.
Kinuthia said his early days on social media were tough, to the extent he almost quit but was convinced to stay by fellow content creators, noting that he no longer tolerates trolls and blocks anyone he feels is hateful.
"I am used to hate today, if you troll me, I just block you. If the blocklist section had a limit mine would have already been filled because I have blocked many people," he said.
The 20-year-old further revealed he has no problem with pronouns used on him, saying that he is comfortable with either the pronouns 'he' or 'she'.
The content creator added that he was single and has never undergone any body adjustment procedures.
"I think its something that runs in the family because my mother similarly has the same body but I think its also about diet, feeding properly, " he said.
Asked what his biggest fear was, Kinuthia said he feared losing his mother because they enjoyed a very close relationship.
"My biggest fear is losing my mum, we have come a long way and she has done a lot for me I don't think I have any other fear," he noted.
Get our Top Stories delivered to your inbox
Recommended articles
Thee Pluto and fiancé reveal baby's gender in beautiful baby shower [ Video]
Jackie Matubia reveals greatest fear dating Blessing Lung'aho
Ex-KTN News anchor excited after landing job at World Bank
Rayvanny breaks up with girlfriend, Bahati reveals wife's whereabouts and other stories on #PulseUhondoMtaani
Cartoon Comedian's emotional message after breakup with lover
Noti Flow opens up on the health challenges she is battling
Hilarious reactions to video of DP Gachagua and CS Magoha dancing
Wahu holds beautiful baby shower as delivery date nears [Photos]
Shakib Lutaaya's special message to girlfriend Zari on birthday