4 Simple Ways To Spot A Fake Rolex Watch
Rolex is a widely known status symbol, with over 700,000 of its timepieces pumped out annually. It's also one of the most counterfeited watch brands out there.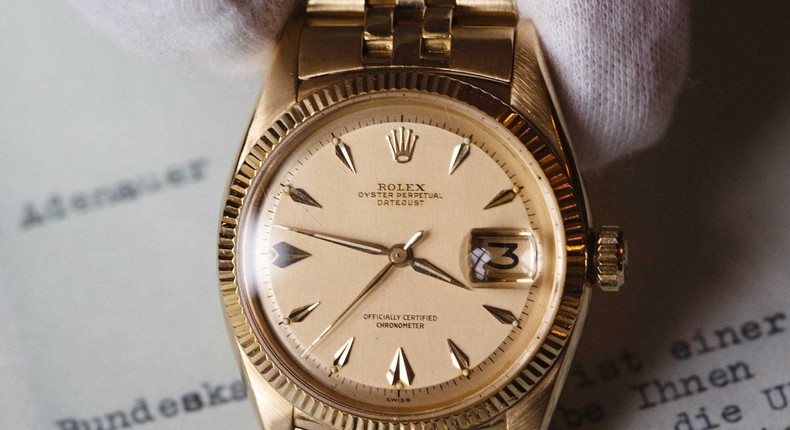 Even if youre not a watch aficionado, chances are youve heard of the Swiss brand Rolex.
1. The cheapest fakes are easy to spot because of their quartz dial movements. The second hand stutters along inside the counterfeit watch, whereas a real Rolex has a smooth second hand movement.
If you're still unsure about the difference between a "stuttering" second hand and a "smooth" one, listen closely — there should not be a ticking noise coming from a true Rolex.
2. The second way to spot a fake is by the heft of the watch. Fake Rolex watches are generally lighter, whereas a real Rolex is made of high-quality metals, and will weigh significantly more.
3. Next, take a look at the winder on the side. Usually, fake Rolex watches have rather basic winders to move the minute and hour hands. But a true Rolex will have a finely-crafted winder with engravings and grooves that are "quite a work of art," according to Duggan.
4. Last but not least, the cyclops lens on the face of the true Rolex will magnify the date. It's hard to replicate, so most counterfeit timepieces will skip this step and the date will appear the same size.
The cheapest watches sold on the street are pretty easy to spot. Duggan cautions it's when the fake watch is sold for over $700 that you will need to take your purchase to a watchmaker so he or she can remove the back of the Rolex and view the inner movements to know for sure if it's a counterfeit or not.
And always remember: "If it's too good to be true, it ain't true," Duggan says.
Recommended articles
African countries with the highest divorce rate
Machoka at 70: Emotions run high during Citizen TV presenter's birthday [Video]
Diwali 2022: Is Monday a public holiday in Kenya?
Akothee finally reveals reasons for separating from Omosh 1 month after wedding
Man, once a 'billionaire', recounts how he lost wealth, now sells his book on streets [Video]
Details of Ngina Kenyatta's luxurious restaurant
Zero Chills! Jackie Matubia's advice for Milly Chebby amid the unfollow drama
Nigerian royal dignitaries, including four kings and a queen, expected to attend Museveni's 50th wedding anniversary celebrations
Mzee Kibor's will made public, revealing how vast wealth and millions will be distributed