11 signs you totally suck at makeup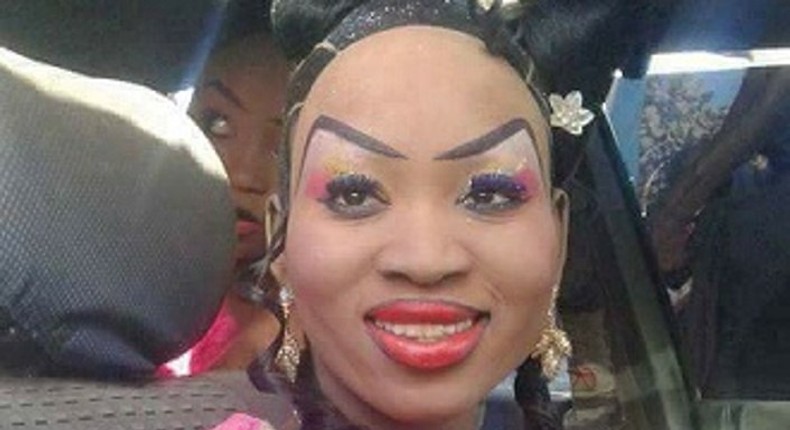 Not everyone can do their makeup well...TBH, it's a skill, an art!
But like many skills, with a lot of practise, eventually, you will get it right. I can count the number of times I have seen ladies walking around with a neck that doesn't match the face – a face that looks catastrophic. I always say that if you cannot do your makeup we, you might want to stay from that whole business till you get it right and can confidently leave the house with makeup on and not look like a clown. If you're really bad at makeup, we feel you sis, we were there too, just keep practising. In the meantime, we bet you can relate to these struggles of people who suck at makeup?
Heck, you do not even know how to test foundations and that's why you end up with a face that doesn't match the neck.
2. You have one brush for everything.
And you keep wondering why your makeup is bad?
3. Words like primer, strobing, Too Faced, Sephora are all foreign to you.
4. You have watched so many makeup tutorials, but every time you try makeup on, on a good day, you end up looking like this…
5. And the winged liner? You even got tired of trying it cause every time you attempt to draw a winged liner, you basically end up looking like a panda.
You know how you make a mistake when applying, you apply more, then more and before you know it, we are talking Panda vibes…
ece-auto-gen
6. You don't have many makeup products and do not follow makeup rules.
7. You feel overwhelmed when you enter a beauty shop like MAC….
"Wow, so many things, so many colors, what is what? Where do I start?"
ece-auto-gen
8. You can barely do your own nails either.
9. You always end up with lipstick on your teeth.
10. Your eyebrows look like step siblings when you try to do them.
11. You've resorted to saying things like "I actually don't need makeup".
No hun, we could all use a bit of makeup. Sorry not sorry.
ece-auto-gen
JOIN OUR PULSE COMMUNITY!
Recommended articles
NTV anchors Ben Kitili & Lofty Matambo promoted to senior roles
15 of the wildest animal specimens I saw hidden underneath one of the world's largest natural history museums
Cucumber: The health benefits of this fruit will leave you speechless
KTN anchor holds dreamy beach wedding ceremony on her birthday [Photos]
Fairytale bride: The 3 dresses Rita Dominic wore on her wedding day in detail
Check out how Rita Dominic and her husband looked at their white wedding
The way of men - How the 1st inaugural men's event went down
DIY Recipes: How to make Sausage salad
5 things people don't consider as cheating but actually is