6 healthy snacks that will help you lose weight
You don't have to starve yourself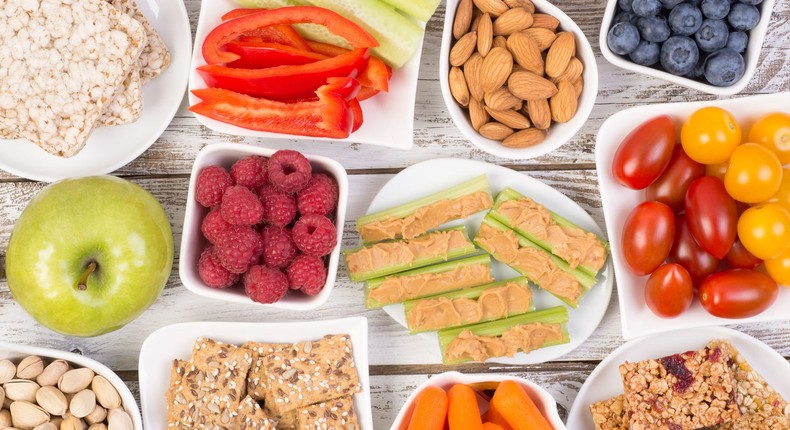 Diet and exercise are some of the most important aspects when it comes to losing weight.
You will want to stay away from some foods and stop some habits that may prevent weight loss. While dieting, you will be trying to cut the amounts of food you eat. But since you will still get hungry, you will need some snacks to help you keep moving.
Check out some healthy snacks you can count on when trying to lose weight:
Fruits are packed with vitamins, dietary fiber and minerals. Eating them will leave you feeling refreshed and energized as you await your main meal. You could for instance eat an apple or a piece of water melon.
Just like fruits, fresh juice is a healthy snack also that will not only quench your thirst but dehydrate you as well. You could make the juice yourself or get it from a fruits and juice store.
The best thing is that you can make popcorns at home and store them cooked. So each time you feel hungry, you get some instead of ordering a burger. They are rich in fiber and thus give you a filling effect.
Almonds are rich in healthy fats, proteins and fiber for satiation. Studies have shown that almonds suppress appetite and will thus help you lose weight.
Chocolate is probably the last thing you would have on your mind when trying to lose weight. But besides lowering your blood pressure, dark chocolate is also known to help with weight loss.
Being on diet doesn't mean you to kills yourself with all the tasteless foods. Eggs are quite high in cholesterol but they are a good source of protein. Plus, they will keep you full for some hours which is a good thing during weight loss.
JOIN OUR PULSE COMMUNITY!
Recommended articles
Miracle Baby's girlfriend treated to surprise baby shower [Photos]
Badagry Slave Route: Slaves passed these 5 notable stops on their journey of no return
Here's why sleeping with your phone in bed can affect your health
6 ways to be an amazing boyfriend when your girl is on her period
7 weird things men find attractive in women
9 feminine hygiene tips every girl should know
10 outdated gadgets that will make you nostalgic
Fashion designer Diman Mkare announces expecting first child [Photos]
6 tips to enjoy rest when struggling to slow down