7 clever ways to use apple cider vinegar at home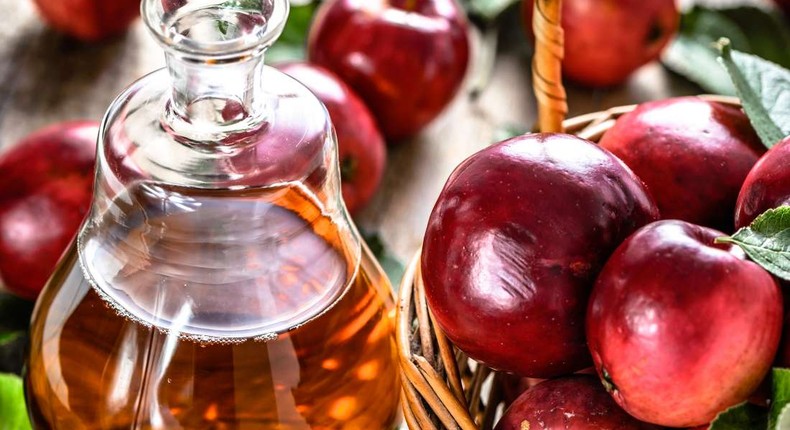 Although apple cider vinegar is mostly used for weight loss purposes, it has many more other uses.
Check out some of the things you can do with apple cider vinegar at home:
1. Getting rid of body odor
Apple cider has antibacterial properties that are known to eliminate body odor. If you have smelly feet for instance, soaking your feet in apple cider vinegar will eliminate the smell. Also, you can swish it in your mouth after brushing your teeth to get rid of bad breath.
If you have dandruffs that don't go away, you may want to try apple cider vinegar. Massage it on your scalp daily until you see results. The antibacterial properties will help get rid of dandruff.
We all want a youthful flawless skin. One cause of acne is usually bacteria. And since apple cider vinegar has antibacterial properties, it helps in addressing most skin problems. It also helps in keeping your skin youthful.
4. Keeping your lady parts clean and healthy
You could also use apple cider vinegar to clean your lady parts. It helps in balancing the vagina's pH and also preventing yeast infections. If your vagina is itching, cleaning it with apple cider vinegar will give you relief.
Your dog or cat might have gathered fleas from other infested pets from the neighborhood. Clean it every day with apple cider vinegar and all the fleas will disappear.
6. Brightening your smile
For whiter teeth, use some little ACV while brushing your teeth. You can also use it to rinse your mouth after brushing. Only don't overdo since it may damage your enamel.
ACV is a natural household cleanser. You can use it to clean your fruits and vegetables as well as cleaning the surfaces. Its microbial properties will kill germs and it's smell will leave your house with a nice fragrance.
JOIN OUR PULSE COMMUNITY!
Recommended articles
3 reasons you should apply lime juice on your face
NTV anchors Ben Kitili & Lofty Matambo promoted to senior roles
15 of the wildest animal specimens I saw hidden underneath one of the world's largest natural history museums
Cucumber: The health benefits of this fruit will leave you speechless
KTN anchor holds dreamy beach wedding ceremony on her birthday [Photos]
Fairytale bride: The 3 dresses Rita Dominic wore on her wedding day in detail
Check out how Rita Dominic and her husband looked at their white wedding
The way of men - How the 1st inaugural men's event went down
DIY Recipes: How to make Sausage salad