What's so good about using snail cream for your face?
The mucus secreted is potent with a variety of nutrients that are great for ageless skin.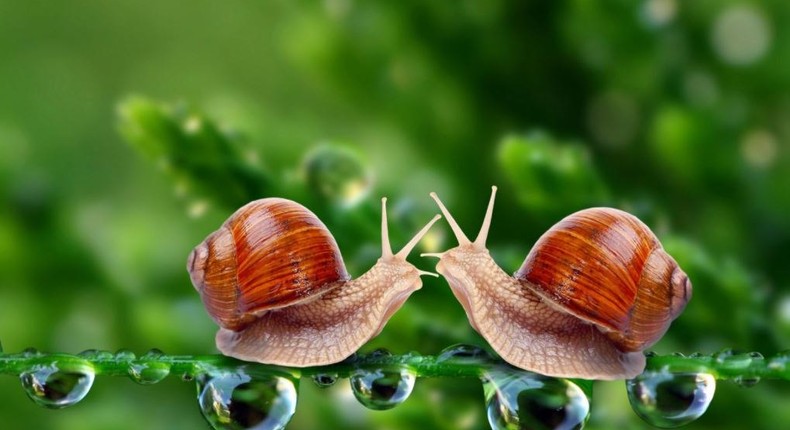 Did you know that people use live snails for facial treatment?
There's a whole beauty industry for snail creme and it's currently a booming business in Nairobi right now.  
With the increasing preference to use natural products such as Shea butter and Jojoba oil for flawless ageless skin, more people are moving away from commercial chemical based products such as Benzoyl Peroxide to clear acne and battle dark heads.
Snail creme is one of the hottest cosmetic products right now.
So what are the benefits?
Snails secrete slime (mucin) to protect their bottoms from cuts, bacteria and UV rays. The slime also contains a healthy potent combination of elastin, proteins and anti-microbials, copper peptides, hyaluronic acid, and glycolic acid. These are also known as essentials for human facial care.
Snail mucin is said to help with everything from fading dark spots, reducing scars, wrinkles and battling acne.
Dermatologist, Njiru Kimwani says that while the hype for snail crème consumption is high, there is only informal proof of its mentioned benefits.
In an interview, Plastic Surgeon Dr. Matthew Schulman said, "There is anecdotal evidence that proteins in snail slime have anti-aging benefits, and clinical trials have looked at that, as well as reversal of sun damage, and shown improvement. Snail slime is not going to help deep folds, but it will improve skin texture and quality.''
However, its effectiveness can be enhanced by other ingredients that contribute to its ultimate effectiveness.
Go for it! There are no identified negative effects of using snail cream for your face. This can be attributed to the fact that not much research has been made on this budding industry.
JOIN OUR PULSE COMMUNITY!
Recommended articles
Dear millennial, can you really afford to be in relationship right now?
Why do single women find married men attractive for relationships?
How to know when your friends have high-functioning depression
Here are reasons why grooms cry at wedding ceremonies
5 ways to have more mind-blowing sex in your relationship
5 things you should never do to please a woman
Popular Nairobi lawyer Silas Jakakimba weds fiancée in star-studded ceremony [Photos]
What's the craziest thing love has ever made you do? 10 Nigerians share their drunk-in-love stories
5 medical examinations every couple needs before marriage