Outfit of the day: Iyanya is such a delicious cookie in this big boy clothes
You're not ready for number 5.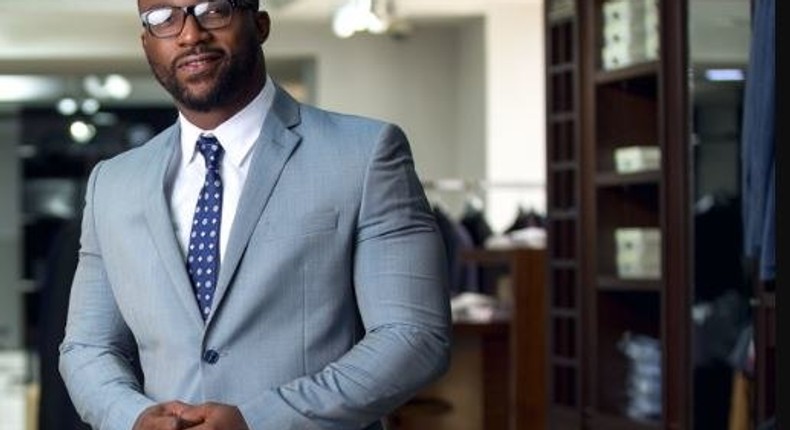 Ladies, raise your hands if you wouldnt mind having a go at Iyanya.
If you're hands are down then you've probably haven't seen him up close. He is arguably one of Africa's hottest celebrities in the entertainment Industry.  With his delectable body and charming personality Nigerian singer, Iyanya is a popular cast to many female fantasies. And it helps that he's super stylish too. It's no secret that suits and men's office wear are a general weakness for the female species and Mr Oreo knows just how sinfully sexy he looks in his. Yup, we fell hard for this delicious man and his fashionable style sense.
Looking for a big boy to day dream about? We've got you. Here's five reasons why, Iyanya is the ultimate eye candy.
1. When Iyanya wears a suit, he makes sure its fitting.
See how broad his shoulders look in that coat. Men take notes, when buying a coat or even just a shirt, make sure the shoulder length is exactly your size t flatter your breadth.
2. He isn't afraid of colours.
Blending in two mild colours is a perfect place to start when experimenting with suits. Check out how he breaks the monotony of single colors with his checked tie. Also, don't hesitate on adding a pocket square to your outfit.
3.  Ladies, think about biting off that bow tie.
Yup, we just dared paint that picture. Bow ties are usually left out for events but really, they are more of a statement of class than anything. Make sure the V of your coat is long enough to complement the shirt. Stick to different coloured buttons for full effect.
4.  Then there's his pants
We get it, no guy wants to be seen in body shaping slacks. However, that's not good enough excuse to not have them as fitting as Iyanya's. When it comes to fitting office pants, smaller is sexy
5. Bet you didn't see this coming but beneath all that fresh cuts are really good briefs.
JOIN OUR PULSE COMMUNITY!
Recommended articles
The way of men - How the 1st inaugural men's event went down
5 things people don't consider as cheating but actually is
Avocado: The health benefits of this fruit are priceless
​Turmeric: 6 unique ways to use this ingredient
5 body language signs you're about to break up
5 parenting tips to raise children in the digital age
Why men hurt more than women after breakups
Meta outlines new measure to protect teens from bullying
Guide to surviving the 2022 World Cup for people who don't care about football