5 interesting facts about this popular fashion item that will knock your socks off (Photos)
Choker's were all the rage back in the mid 90's and early 2000s but just like most fashion trends, these items of clothing made a huge comeback along with brown lipstick.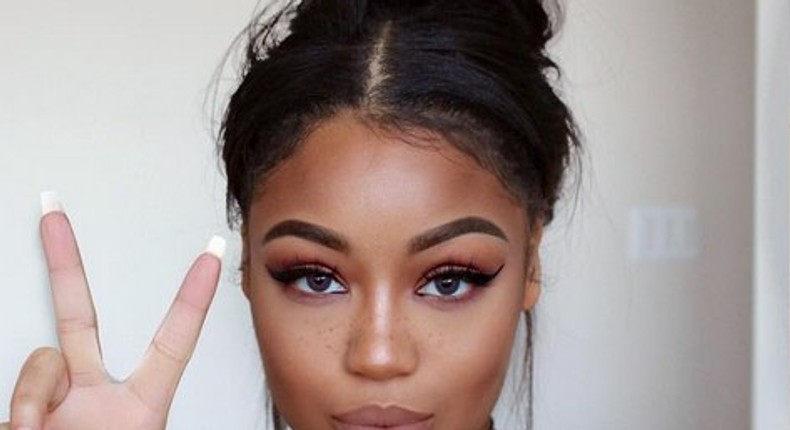 Unlike the 90's chokers the new-age chokers come in many forms including lace, velvet, denim, leather wrap-arounds and even plastic.
So popular was this trend that ASOS, a British clothing store launched chokers for men which have been the subject of 'die chokers die'  kind of articles.
But this trend is not about to die soon judging from the large number of brooding, slightly-emo teenagers with heavy winged eyeliner rocking them.
And just for fun, today we look at some random facts about the origin, spread and even the stereotypes associated with this edgy look.
1. Mesopotamians and Ancient Egyptians were believed to be the first people to wear chokers. But unlike our young ones who are pursuing this trend for the love of fashion, women in the ancient ages wore the chokers to protect their neck and give them power.
As National  Jeweler reports, women in ancient times wore jewelry on the throat, head, arms and ankles; parts which they believed needed protection.
They also believed that these little trinkets especially those made of gold had special powers associated with the sun. While those that had a blue mineral called Lapis Lazuli possessed the life-giving powers of the River Nile.
2. At one point, chokers were associated with prostitution; this is due to a painting called Olympia by a French painter called Édouard Manet.
The Olympia painting portrays a naked prostitute modeled by Victorine Meurent donning the choker and being brought flowers by a black slave.
3. Despite the negative connotations of the choker, European royalty could not resist these items of clothing. Alexandra of Denmark who became the Queen of Great Britain and Ireland after Queen Victoria's death was very fond of chokers and reportedly wore them to hide a scar around her neck.
4. The chokers were worn as a sign of defiance during the French revolution where many people lost their heads to the guillotine. Women all over France donned these items of clothing in the form of a red ribbon to pay homage to those that lost their heads to the beheading apparatus.
The chokers soon made their way to England where other women wore them as a form of solidarity with the French people.
5. Chokers have however not been limited to fashion, power or protection. Between 1840 1nd 1870 Germans and Austrians wore Kropfkettes to hide the bumps caused by goiter.
JOIN OUR PULSE COMMUNITY!
Recommended articles
Is love transactional? - First episode of Pulse LSL premiers [Video]
5 things you can do if you are stuck in a queue for hours
5 reasons you should consider having a court wedding
The perfect nail color to wear when your boyfriend proposes
Miracle Baby's girlfriend treated to surprise baby shower [Photos]
Badagry Slave Route: Slaves passed these 5 notable stops on their journey of no return
Here's why sleeping with your phone in bed can affect your health
6 ways to be an amazing boyfriend when your girl is on her period
7 weird things men find attractive in women