Meet the Emergency Room physician turned fashion designer
She recently announced the launch of her new fashion brand, Ezie featuring her debut collection The Essentials.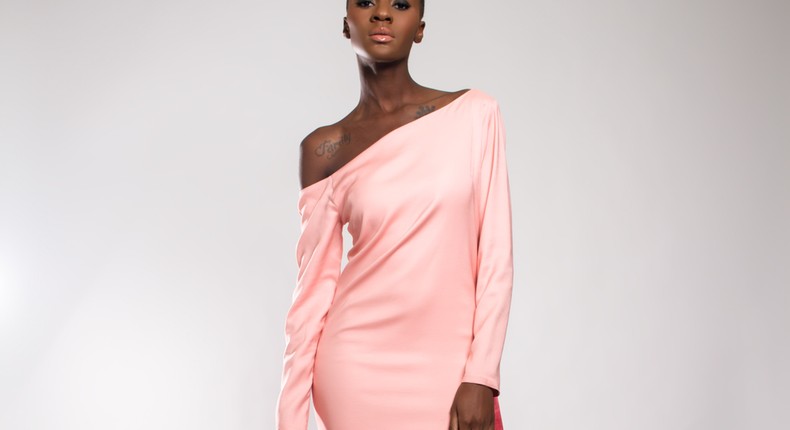 Written by Isaac Khaguli Esipisu
Q: Could you please tell us about yourself?
A: I'm the first of a tightly knit family of five from very humble beginnings. My family migrated from Nigerian to the US, when I turned 16 and although I'm anxious to return (in 2017), I regrettably haven't had a chance to go back ever since.
Growing up in the US, didn't affect at all at how we were raised culturally, as our Igbo heritage was practiced and installed in us.
I love my culture and I also enjoy exploring and learning other cultures and traditions all around the world, as I draw my inspiration from people, places and experiences.
I consider myself a dynamic individual with a strong love for God and a passion to empower and help people.
Q: From an ER physician to a designer, what brought about the change?
A: For as long as I can remember I have always loved fashion, from design to styling to wearing coveted creations.
I also loved medicine and studying the sciences was encouraged in my family because it afforded me with job security.
It was no surprise that I chose it first but there is a difference between doing what you're good at and doing what you're passionate about.
Over the years and while I progressed in my medical training, I designed looks for my family and friends and created unique pieces for myself until 2016, when I decided why not show the world!
A: Ezie made absolute sense to me because it's the last four letters of my surname and when pronounced it's synonymous with a quality that I wanted my line to be, "easy"... easy to wear and easy on the eyes aesthetically.
Q: How does the two cultures contribute to your design thinking
A: I think my experiences with both cultures are a great asset to my creative process. It helps me to understand the woman I am designing for such as, what they are looking for in their clothing and the inspiration to create what my African and American sisters will love to wear.
Q: What is ezie bringing that is different from other fashion brands
A: It's important for me to say how excited and proud I am of the few African designers who are creating amazing collections and running in the same league as notable western fashion houses.
My line brings a fresh, fun and chic spin on daywear, influenced not only by African and American culture but a collective of worldly influences and backgrounds.
Q: How is the fashion market in the US compared to Africa?
A: The US market is constantly changing. It's very competitive, often time saturated and quite similar to the consumer based African market.
However I am intrigued and impressed with the African fashion industry because of its growth, new appreciation and insatiable need for something different than the usual ethnic attire.
Q: Are there any chances of opening a store in Africa and where?
A: Of course, it's definitely a plan for the latter future. I would love to open up a store in Nigeria, but it's my focus and time to get reacquainted first.
JOIN OUR PULSE COMMUNITY!
Recommended articles
Betty Kyallo, Bahati among headliners for all-white themed comedy show
Interesting history of influencer marketing in Kenya
5 ways to have more mind-blowing s*x in your relationship
Details of cosmetic procedure behind Kate Actress' new body [Video]
Here's why sleeping with your phone in bed can affect your health
Body count: Stop asking your girl for it, you don't need to know
25 top designers to showcase at Nairobi Fashion Week
Kelvin Kinuthia and mum step out with matching outfits on birthday[Photos]
Barbie tattooing my face on her back boosted my self-esteem - Bobi Wine