7 jeans hacks you should know
Ever sat on a chewing gum while wearing your favorite jeans?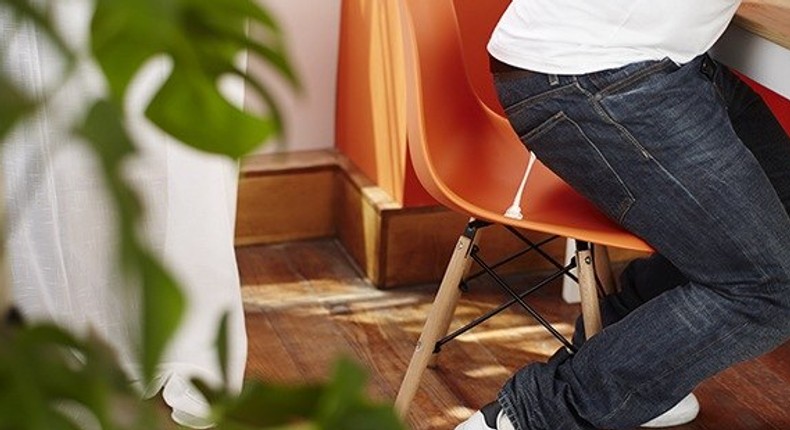 Plus, the styling options are incalculable. In fact, if it were up to most of us, we would never wear anything besides jeans. However, getting that perfect pair of jeans – one that won't fade so easily, one that will not be too small or start sagging and one that will last is no cakewalk. But we have some tricks to help you get the right size and also make wearing your jeans easier.
1. Have you ever sat on a chewing gum while wearing your jeans?
Happens to the best of us. If that happens, simply rub an ice cube on the chewing gum till it starts coming out. Alternatively, you can also use vinegar. Put a bit of vinegar in a cup and microwave it for about 45 seconds, then take a piece of cloth, dip it in the vinegar and rub the area where the gum is stuck. After the gum has come out, you can gently rub the area with a toothbrush or a piece of cloth.
2. If you do not want your dark navy-blue jeans to bleed when washing,
Simply soak them in water and add a cup of salt. No one wants new jeans fading already.
3. And speaking of fading,
To prevent them from fading, add half a cup of vinegar in the water when washing as this helps minimize the fading.
4. Alternatively, if you really don't want the jeans to fade at all,
Put them in a ziploc bag then freeze them overnight. The cold temperatures will kill all the bacteria, getting rid of the smell and you really don't have to wash your jeans. It's kinda gross but if you think about it, scruffy jeans are lowkey stylish.
We have all been in that situation. If this randomly happens, fix a keyring on the holder of the zip, zip up the jeans then hook the keyring onto the button of your jeans and then button them up. The zip will stay put. If you have no keyring, you could also use a small hair rubber band.
Have you ever been in a situation where you bought a pair of jeans, only to get home and it wouldn't fit? Well, to avoid that, button the jeans and zip it up, then fold your arm into a fist and put the forearm (from the fist to the elbow) into the waist of the jeans. If it fits, then that's your size. If the arm feels too tight, the jeans is small and vice versa.
You could also use the neck test, where you wrap the waist of the jeans around the neck and again, if it fits, the jeans will fit and vice versa.
However, while these methods almost always work, it's important to note that depending on the style of the jeans that you're buying, and your body size, these may not get the exact perfect fit, especially around the crotch area.
You should never buy jeans without doing the squat test. What's the squat test? You simply put on jeans and squat for about 60 seconds then check whether the jeans have maintained their shape. There should be no creases, if there are creases, it means the jeans will start sagging soon and it's slightly bigger. Also, your butt crack should not be visible when you squat. That's how you know that it's your perfect fit.
JOIN OUR PULSE COMMUNITY!
Recommended articles
Signs she will say yes when you pop the question
Ladies: Here are 5 dangers of wearing waist trainers
3 reasons you should apply lime juice on your face
NTV anchors Ben Kitili, Lofty Matambo promoted to senior roles
15 of the wildest animal specimens I saw hidden underneath one of the world's largest natural history museums
Cucumber: The health benefits of this fruit will leave you speechless
KTN anchor holds dreamy beach wedding ceremony on her birthday [Photos]
Fairytale bride: The 3 dresses Rita Dominic wore on her wedding day in detail
Check out how Rita Dominic and her husband looked at their white wedding