Style Inspiration: How to dress like Tems in 5 steps
You can dress like Tems in at least five ways.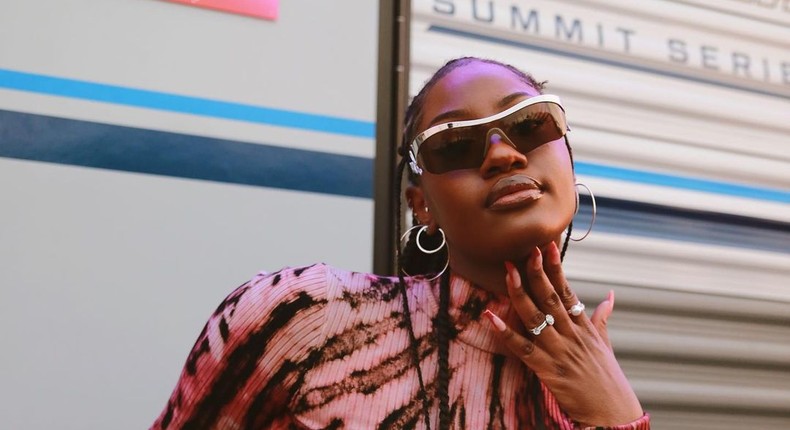 Singer and songwriter, Tems has a very peculiar style and that is why she is our style inspiration this week.
What reminds you of Tems? What hair, makeup, shoes and clothes make you think to yourself, "This is a Tems outfit!"?
1. Big box braids
Tems loves to make long, big braids. Big box braids and cornrows should be trademarked to Tems, although when she started her career she packed her natural hair up like a crown.
2. Clear lip gloss
Tems is always chic in clear lip gloss and lined lips. She might have inadvertently started this clear lip gloss trend some other new school girls have copied.
3. Sheer or any see-through fabric
Tems loves her sheer fabric or any that's clear and transparent. She caps it off with a bikini underneath.
4. Oversized clothes
Oversized jackets, shirts, trousers and shorts. For comfort or maybe or just avoiding over-sexualisation, who knows? But they are a Tems classic.
5. Bodysuits
Tems can bring her sexy back too, and she does this with sexy bodysuits.
We cannot round up this list without a bonus, which is statement eyeglasses. Tems looks cool in statement shades.
You can be inspired to dress like Tems with these suggestions.
JOIN OUR PULSE COMMUNITY!
Recommended articles
The 14 best prenatal vitamins for soon-to-be moms, according to experts
Juliani and Lilian Nganga welcome a bouncing baby boy
5 signs you're ready to be in a relationship after being single for so long
15 hot and steamy ways to get yourself in the mood
5 places in the world you're not allowed to visit
Muitiriri's new role at NTV revealed days after being poached from TV47
Going to therapy and 4 other things we need to normalize about mental health
8 types of matatu crew you will encounter in Nairobi
Esther Passaris reveals the tailor behind her stunning dresses